If you aren't someone who still subscribes to the print version of Car and Driver, you really should give it another look! More than any other monthly automotive publication, C&D saves some of its best columns and features for actual magazine pages. The "Backfires" section of the most recent issue featured a suggestion from a reader which we have approximately recreated below:
Graphic inspired by Car and Driver Magazine

The gist of Paul from Winterbourne, Ontario's (slightly west of Toronto if you were curious) suggestion is that he would like to see a value piece added to C&D's excellent annual Lightning Lap feature (which is worth the subscription price by itself). He suggests a dollar per minute metric be added to see what kind of speed you can buy for your money. Ed from C&D (short for editor, not an actual name) actually fired back at Monsieur Marrow's Backfire. After crunching some data and creating his own metric for value measurement, "Ed" proclaims the 2019 ZR1 the performance-per-dollar king, saying that to recreate their 2:39.5 lap time at Virginia International Raceway in a different car would have to cost 174,000 more dollars!
That is a staggering number that made us curious about just how much value each member of the Corvette family brought to the table, further investigation was necessary!
As an illustration of value, we decided upon dollars that customers would pay for each second that their car would take to circumnavigate VIR. This method was perfect because it produces easier numbers to comprehend than the original proposal of dollars-per-minute while also requiring less complicated math than C&D's "lap recreation" technique.
Next, we took it a step further and investigated current price trends on used examples of each version of Corvette that has lapped at VIR as a part of Lightning Lap since the feature debuted in 2006 to see just how fast someone on a budget could go around "America's Toughest Track." Finally, for anyone who is easily swayed by great data or who was already in the market for any of the 'Vettes that we are looking at, we included some handpicked examples that could be purchased today. Now, let's look at the results!

2019 ZR1
Car and Driver put the value crown on the King of the C7 Hill and after looking at their all-time LL results, where the final front-engine Corvette only sits behind the million-dollar McLaren Senna and the $350,000 911 GT2 RS Weissach, it is hard to argue with what the ZR1 brings to the top of the leaderboard for middle of the leaderboard prices. Looking closer, we find that when new, the most common ZR1 set-up with the ZTK package and 3ZR equipment group stickered for around $144,000, so each of the bat-wing'ed 'Vette's 159.5 seconds around VIR would cost $902.82. When you compare this to the 2RS's asking price of $2,218 per second and the Senna's $6,455.78 per second around VIR, you start to see how impressive the fastest version of America's Sports Car is. It gets even better though, some used examples of the '19 ZR1 are starting to hit the market as people try to make room in their garage for a 2020 Stingray. The majority of them that we have seen sell in the past couple of months, either online or at auction, are going in the neighborhood of $120,000. This brings the price for each second at VIR down to $752.35. Our pick for those of you who still want to get your hands on one is located in Orlando at Fields Motorcars, check out this Torch Red over Kalahari beauty!
When you look at the rest of the C7 line-up, each model is slower around Virginia International, but each of the extra seconds that they spend on the track costs less than their 755 HP brother's.

2015 Z06 (Z07)
The Z07 equipped C7Z was the second-fastest vehicle that Car and Driver had ever had to Lighting Lap (behind another near-million-dollar hypercar, the Porsche 918 Spyder) when it ran in 2015 and it remains in a very respectable 12th spot out of 259 different participants. When new, the "Big Nasty" turned in a blistering 2:44.6 at VIR. With a price tag just north of $100,000, first owners paid just $607.53 for each second at the track. Deprecation, obviously, makes the C7 Z06 an even better deal. You can expect to pay around $65,000 for a nice, used example on today's market depending on the exact model year, mileage, etc. which means that a good buy on the first few years of the supercharged Z06 can get you around VIR for under $400 per second! Our pick of the litter right now would have to be this 2016 C7.R Edition offered by Van Bortel Chevrolet in Macedon, NY. Just like our pick for "the ZR1 to purchase," it is a bit pricier than average but it also brings with it an extra dose of "special" when compared to a "run-of-the-mill" Z06.

2017 Grand Sport (Z07)
At about $90,000, a Grand Sport with the Z07 package is the best deal that we've seen thus far. The top-spec GS crossed VIR's finish line after 2 minutes and 47.1 seconds had elapsed at a price of $538.60 per second. The Z07 version of the GS is one of the rarest Corvettes of the past decade with a total production number of just 2,028 units. As such, any that you can find for purchase will likely cost Z06 money. The good, low mileage example that we found at Corvette World Houston is perfectly priced at $59,995, making its present-day price-per-second at VIR just $359.07.

2014 Stingray Z51
The base seventh-generation Corvette stopped the clock in 2:53.8 when equipped with the Z51 performance package. Such a car wore an original MSRP somewhere around $75,000, ringing up each of its 173.8 seconds at a new bargain price of $431.53. Today, a similarly optioned early Stingray could be yours in the low $40s, let's say $42,000, which gives us an incredible discount on VIR seconds. Each would cost but $241.66 in this scenario!
Car and Driver also has lap data for every Targa or hardtop model of C6. These cars have had even longer to deprecate so wait until you see the value that they currently bring to the table!

2012 ZR1 (PDE)
It really is incredible how fast cars have gotten in the eight years since the PDE version of the C6 ZR1 ran a 2:50.7 at Lightning Lap 6. That mark was the fourth fastest (second if you don't count Moslers as road cars) out of 115 historical contenders. Now, the once unbeatable, 638 HP, Uber 'Vette is all the way down in 34th place, more than three seconds behind the 460 Horse C7 Grand Sport. 2:50 is still very fast and just because it can't quite hang with some newer hardware, the C6 ZR1 is a very desirable car. When new, you would have been paying $761.57 per second at VIR for a ZR1 PDE. If you can find one of these rare beasts today, that number is down to $410.08, an outstanding bargain!

2011 Z06 (Z07)
The new for '11 Z07 package helped the C6 Z06 cut about five seconds off of the original C6Z. It could have been even faster if they ran either a '12 or '13 Z07 as they received even sticker tires that C&D attributed a full second of the ZR1 PDE's time to. Still the 2:53.5 that it set was only 1.7 seconds off the 2009 ZR1's pace and quicker than a Ferrari 430 Scuderia and a Lamborghini Murcielago SV! When new, these surprisingly rapid seconds could be yours for $576.37 each and now they would only put you back about $345 apiece. There are several outstanding examples out there for your consideration right now too! The one that has most of our attention is this stunning Inferno Orange model for sale in Tampa.

2007 Z06 & 2009 ZR1
The base versions of the last two cars that we covered have become dollar to performance to prestige, some of the best vehicles on this list. The Z06 was the first car to ever run a sub-3-minute lap at LL and originally, it would have cost you $420.88 per second to purchase one of these 7.0 liter machines but now, that price is all the way down to $224.47! Next to that, the ZR1 doesn't look like a very good deal but remember, it is faster and rarer! A C6 ZR1 without the PDE package ran a 2:51.8 in 2009, the fastest time of the year. Each second of that lap would have cost more than a dollar per horsepower at $698.49 originally but they are about half price in 2020. $349.24 per second can score you the first Supercharged Super-Vette today.

2010 Grand Sport
The Grand Sport returned in 2010 with a 2:58.8 lap time that nearly matched the Z06's from a few years prior, prompting Chevrolet to introduce the previously mentioned Z07 package to bring the Z back up to speed. The GS's impressive 178.8 seconds at VIR could be yours in 2010 for just $364.76 each and they can be had for about $200 apiece now.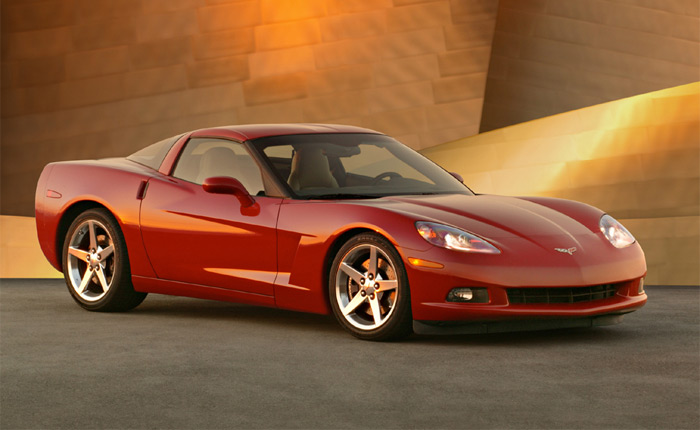 Base C6s
The C6 Z51 is the easiest car on this list to get your hands on and, not surprisingly, with prices for nice, low-mileage examples hovering around $25 and $30k, depending on year, they are also the best value for the performance that they are capable of. The 400 HP LS2 version was present at the 2007 event where it ran a 3:03.6. The upgraded LS3 version cut that down to 3:01.2 the following year. The LS2 was and remains the best deal on the list. Originally, its VIR seconds could each be bought for an amazing $277.78 and now they are only $136.17 which is so cheap that we don't see any reason not to buy one today and drive it to VIR after work. If you have a spare $30 to spend on each second, you can get a slightly newer and quicker, LS3 car for $165, down from an original price of $277.78.
If you are more of a visual learner or just plain hate to read, here is a handy chart that we made just for folks like you.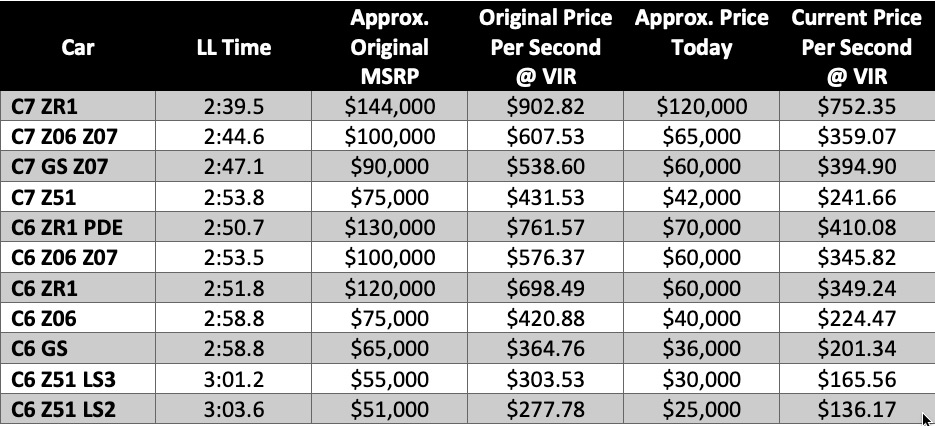 All of this data is pretty worthless without some context, so, before we let you go, here is another visual aide featuring the prices that you could expect to pay for some of the Corvette's main competitors (the best deals are bolded).

Conclusion
Well, no big surprises here. The only thing that all of this work proved is what everyone already knew; if you want to go around a track fast without spending an outrageous amount of money, you should buy American, and the best way to buy American is by getting into the driver's seat of a Corvette. We also feel like the 'Vette has progressed to a point where we don't have to use its superior price point as an excuse, but it is still a nice reminder about what a good buy these world-class performance machines are. Apart from seeing what a steel American Cars are, the numbers highlight how ridiculously overpriced European exotics are.
Of course, there are some inherent flaws in this data that we would also like to quickly discuss. Track times are far from the only quality that people consider when purchasing a vehicle but it is hard to argue that you are getting more than twice the amount of car when you choose a McLaren 720S over a ZR1, etc. The data only covers one race track too. The times could prove to be considerably different at another track that doesn't favor power as much as VIR does but after looking at the huge price differences at play here, times from any track should show similar scores for value. You may also notice that these times were collected over a 14-year span by different drivers during varying weather conditions which is a quite a few variables for something like this but it is still the best collection of lap times that can be found anywhere; obviously, it shouldn't be considered scientific, but it does give a strong indication of how all of these cars compare to each other in stock form.
Finally, if we were to go back and crunch all of this data again, we would add some kind of criteria that penalizes cars for any time over a certain threshold because the delta between a 2:50 car and a 3:00 car is much bigger than it sounds; just one second on a track is an eternity and a lot of people are willing to pay for very incremental improvements. We would like the data to better reflect that fact but for now, it is hard to argue with the all-around value that a base C6 brings to the table or the shocking mix of value and face-melting speed offered by a new, discounted Camaro ZL1 1LE!
How did your car fare? What cars did this make you gain or lose respect for? What was added to your shopping list? Let us know in the comments section, we look forward to hearing from you, and, as always, thank you for reading!

Related:
CorvetteBlogger's Definitive List of the Best Corvette from Each Generation Part II
CorvetteBlogger's Definitive List of the Best Corvette from Each Generation Part I
We Rank the Best Corvette of Every Decade!