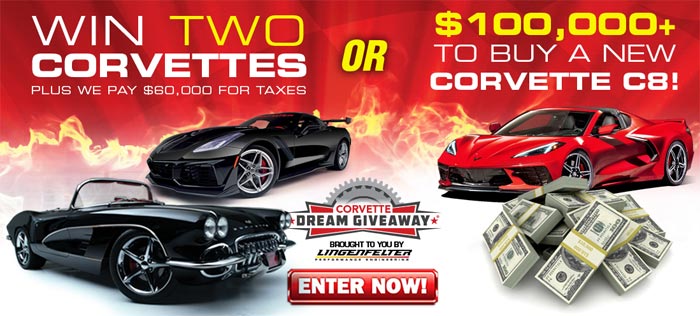 Just a few more weeks remaining in the Corvette Dream Giveaway where you have the opportunity to take home two very cool Corvettes plus $60,000 in cash to pay for the taxes. It's the end of the year so if you are looking to make a tax-deductible donation, you can't go wrong with helping to support the great charities that benefit from your ticket purchases, and your accountant will thank you too! And did we mention that tickets to the Corvette Dream Giveaway make great stocking stuffers!
You can purchase your Dream Giveaway tickets here!
Here's a new video from our friends at the Dream Garage who remind us that the clock is ticking for your opportunity to win the largest prize package ever in the 12 years of the Corvette Dream Giveaway
From Dream Giveaway via YouTube:
These two Corvettes have been on tour all year long. Now this is your last chance to enter to win them in the 2019 Corvette Dream Giveaway. If you are the winner, you can choose Option #2, take $100K cash to buy a brand-new mid-engine Corvette when they become available next year. But hurry because the last day to enter is December 31st.

Source:
Corvette Dream Giveaway

Related:
Get Your Bonus Tickets Today to Win the Vettes in the Corvette Dream Giveaway
[PICS] Win a 2019 Corvette ZR1 and a 1961 Restomod in the 2019 Corvette Dream Giveaway!
[VIDEO] Army Contractor from Alabama Wins the 2018 Corvette Dream Giveaway