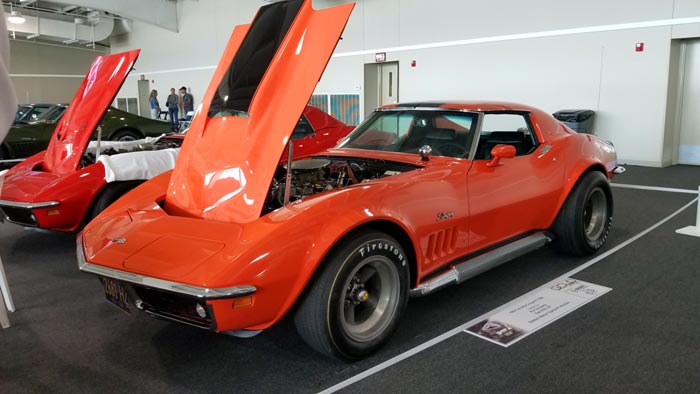 Photo Credits: Jeffrey Wagner

Phil Schwartz was a typical teenage boy growing up in America. He wanted an awesome car and wanted to go fast. So as a reward for graduation and good grades, Phil's dad offered him any car he wanted. Being a kid from the east coast, there wasn't anything faster and more desirable than a Baldwin Motion Corvette. Phil and his father went to Baldwin Chevrolet in the Baldwin community of Long Island, NY and ordered his dream machine, a Baldwin Motion Phase III Corvette.
What was ordered from St. Louis was a Monaco Orange 427ci/435hp L71 coupe with a grocery list of go-fast stuff. Transistor Ignition System, Side Pipes, M21 close ratio 4-speed, Positraction, and dual-clutch were all on the list. The car was loaded with luxury items such as power windows, AM/FM radio, black leather interior and an alarm system.
The Stingray was shipped to Baldwin Chevrolet and then Joel Rosen's Motion Performance did their magic. With most of the upgrade enhancing performance, the 3-barrel Holley carburetor, Mallory Ignition, Edelbrock intake manifold, Phase III ignition box, Fly-Eye air cleaner, and Hooker Headers all combined to create about 600 horsepower. Motion Performance had a guarantee if their car would not run 11.5 seconds and 120 mph in the quarter-mile, the owner could bring it back. No one ever brought one back.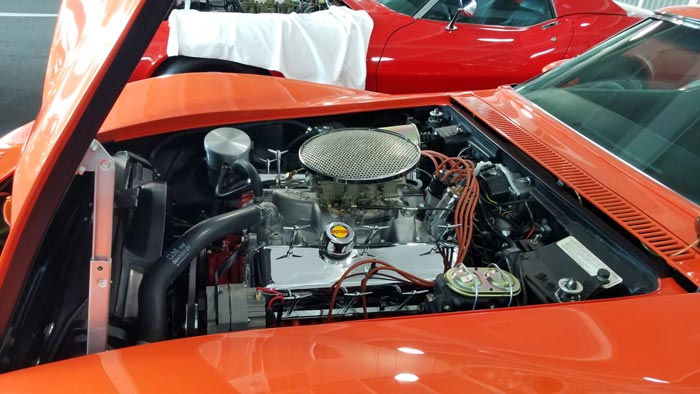 A set of American Racing wheels wrapped in Firestone Indy tires were responsible for transferring that power down and fender flares were fitted to cover the rubber. An extra tall hood scoop, flip-up fuel cap and black stripe with the black rear body treatment finished off the Motion look.
For a year, Phil ran the streets of Long Island before he gave up the hot rod to start a family. The classic story. Then many years later, Phil decided to get back into sports cars and wanted to find his old Corvette. Being from Long Island, he knew of a guy from Valley Stream, Long Island that could help, Kevin MacKay, owner of Corvette Repair, Inc.
Many conversations took place between Phil and Kevin about the 69 Baldwin until one day MacKay was looking at parts on eBay, and he came upon a Phase III Corvette for sale. Kevin quickly contacted Phil and gave him the eBay item number. Phil knew immediately that it was his Corvette. The giveaway was a fuel-pressure gauge. Phil had installed a Stewart Warner fuel-pressure gauge on the driver's side wiper cowl. However, there was a problem. The owner had stated the engine and transmission were missing and the "Buy It Now" option was listed at $220,000. MacKay thought that was extremely high for no motor/no transmission and advised Phil to offer $150,000. It was refused and a couple days later the listing was removed. Schwartz said, "I was just devastated."

But lightning struck again. About a year later, Phil received another call from Kevin. "What are you doing Saturday?" MacKay asked. Schwartz replied that he was going to a wedding. MacKay responded, "No, you're not. We're going to a car auction. Your car's up for sale again." A few days later they were in Connecticut.
After finding the Corvette, and certain it was Phil's old hot rod, Kevin noticed that a proper L71 427ci motor and M21 gearbox were installed but the restoration was very amateur with many of the Motion modifications missing. Also, the car didn't run. With this knowledge, the pair thought they might get the Corvette for a really good price. Unfortunately, there was another bidder interested.
By the time the bidding was over, they had the car to a tune of $200,000. Phil put the Corvette in the hands of MacKay's Corvette Repair, Inc. and it was precisely restored to the way Phil purchased it.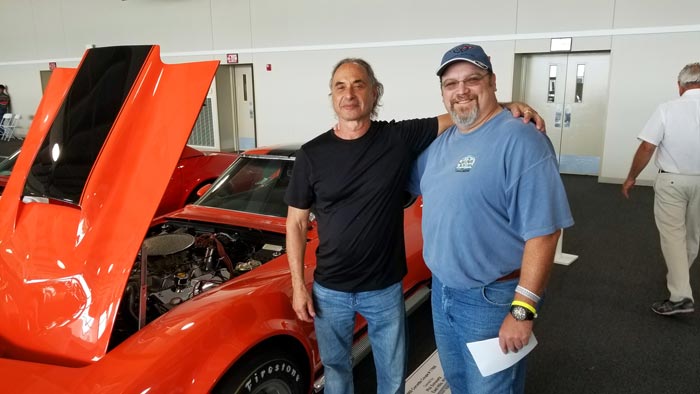 Corvette Onwner Phil Schwartz (L) with the author Jeffrey Wagner (R)

This past June (2019), I was able to attend the Bloomington Gold event and stumbled upon the 1969 Monaco Orange Baldwin Motion Phase III Corvette. To my surprise, Phil Schwartz was standing there with Kevin MacKay. Needless to say, I hung around a spoke with them for a while. I have known Kevin for a few years now and told him I was really interested in checking out the Motion Car. He introduced me to Phil and he was kind enough to give me a personal walk around. What a treat. It is always cool to hear the stories on special Corvettes and then get the details from the owners. Phil is a wonderfully nice guy and was generous with his time and information.
The story of Phil's 1969 Motion Corvette is a feature in Kevin MacKay's Book "The Corvette Hunter" along with many other stories of tracking down rare Corvettes.

Source:
The Corvette Hunter

Related:
[AMAZON] Add Kevin Mackay's 'The Corvette Hunter' to Your Summer Reading List
Corvettes on eBay: 1969 Baldwin Motion Corvette Phase III GT
Last Baldwin-Motion Phase III GT Corvette Found