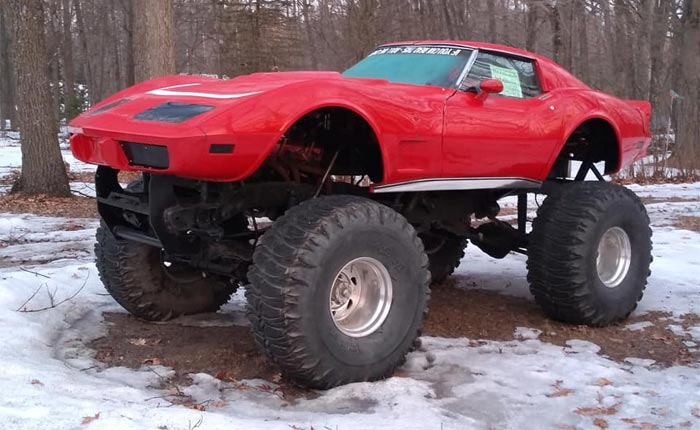 I bet you didn't see one of these at the NCM Bash last week, did you? Of course, not. Facebook Marketplace brings us this high rollin' C3 for sale in Michigan. With summer just around the corner, why not pick this one up and head out to your local off-road park or mud hole?
Here's the entire listing: "Posting for my friend, call him. 51seven50seven1956. If I had a garage and a mud pit and extra cash to spend. SPRING Is Here or so it is a bit warmer…Make him offers, time to mud around…"

Since details are slim we'll attempt to fill in the blanks. The bright red body appears to be sitting on a lifted truck chassis of some type. The exterior looks to be relatively stock save for some blacked out turn signals and headlight doors and a 1978-style spoiler out back. The sign in the window indicates that it's powered by 355ci engine.
There's no mention of horsepower rating, though we do see some red valve covers, well one of them anyway. Then there are those giant meats mounted on aluminum wheels. These could be the biggest tires we've seen so far on a 4×4 Corvette.

Inside we see a red interior with black deluxe door panels. The center console has been modified to accept a custom shifter while the stock shifter cover faces backward just behind it. We also note some wear and tear on the driver seat as well as the standard-issue Vega steering wheel.
For some reason most lifted Corvettes we see tend to be C3's and we're not sure why. Just guessing that it's partially due to the low cost to build one using an inexpensive mid-to-late 1970's Corvette. The asking price for this beast is just $10,000 and the seller's for sale sign indicates that he's now accepting offers. We're guessing that the upcoming C8 probably won't come in a lifted 4×4 configuration so this may be your best chance to land one so act quickly.

Source:
Facebook Marketplace

Related:
Found On Facebook: Lifted 1984 Corvette
Found on Facebook: Lifted C3 Corvette 4×4
Corvettes on eBay: 1968 Monster Corvette 4×4