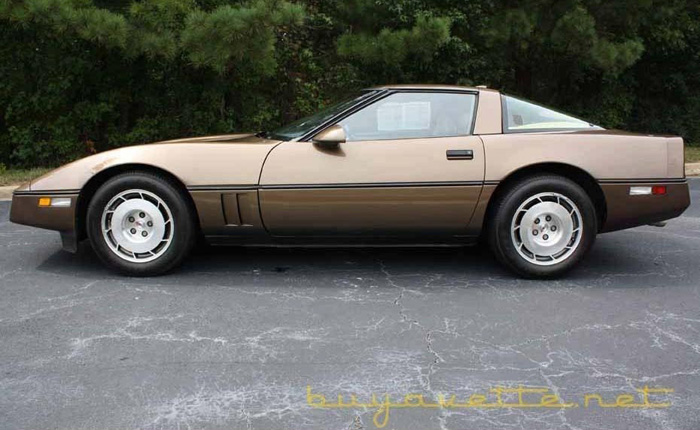 Is Brown the new Orange?
The Corvette design team will soon find out once orders for the 2020 Corvette are accepted and the cars begin production. That's when we'll begin to see how popular one of the new colors expected for the 2020 Corvette called Zeus Bronze (RPO GUI).
Zeus Bronze is one of three new colors that is expected to be added to the Corvette color chart for the C8 generation. The brownish-metallic Zeus Bronze and the other two new colors Rapid Blue and Accelerate Yellow Metallic, were outed after a Canadian customer leaked details of the 2020 Corvette online after he was able to spec out his dream C8.
GM uses different names for the same color across its brands but what is usually standard are the color codes. Zeus Bronze's RPO is GUI and that code also corresponds to the Cadillac color "Bronze Sand Metallic". Automobile reviewer Doug DeMuro recently took a closer look at the 2019 Cadillac CTS-V and yes, this one is finished in Bronze Sand Metallic:

This video is definitely worth the watch even though it's a Cadillac. Not only can you see the exterior color in multiple angles on this car, but Doug takes us through some of the tech that includes a looks at the rear view camera mirrors and infotainment options that could be present on the 2020 Corvette, albeit in Chevy form.
Ok, back to Corvette now…
It's been since 1987 that shade of Brown last appeared on a Corvette. Medium Brown was offered on 1986-87 Corvettes both as a stand-alone color and also in two-tone combinations. In 1986, only 488 buyers selected the color and it was half that in 1987 with just 225 Corvettes offered in Medium Brown Metallic. Thanks to our friends at Mid America Motorworks for this photo of a 1986 Medium Brown Corvette:

Chevy flirted with the brown hues in the early to mid eighties with several "Dark Bronze" colors as well. This 1985 Corvette was done in two-tone Light Bronze/Dark Bronze Metallic:
A Dark Brown exterior was offered by Chevrolet on Corvettes from 1978 to 1980. In 1978 and 1979 the color was called "Corvette Dark Brown" but in 1980 it was simply listed as Dark Brown. Sales of Corvettes during this time period were high with 1979 Corvette production reaching 53,807. During the three years of 1978-1980 a total of 8,344 Brown Corvettes were produced which accounted for 6.2% of production.
The very first Dark Brown to appear on the Corvette was in 1974, just in time for the disco era and shag carpet (yeah baby!). The 1974 model year color production is unknown. Dark Brown wasn't offered in 1975 or 1977 but it did slot between the two with the 1976 model year having a total of 4,447 Brown Corvettes produced. Below is the 1974 model.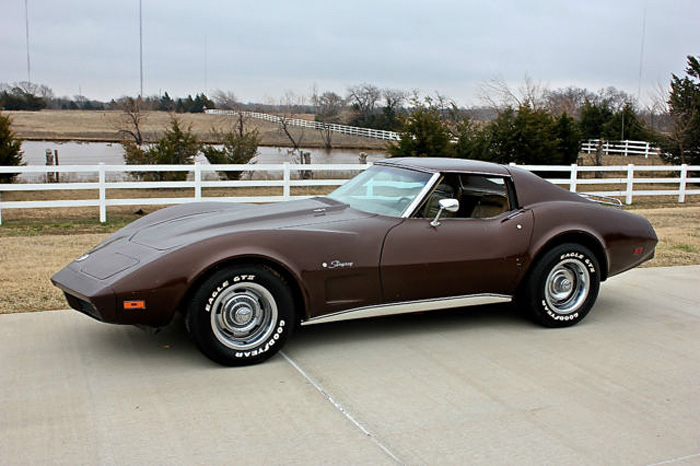 Unless there is some pent-up demand for the color that we do not know about, our feeling is that Zeus Brown will most like be a one-year color, much like Lime Rock Green or Sterling Blue was during the C7 years. The move to 12 colors gives the Corvette team a little more latitude to offer some unique shades on a one-year basis and changing the color palate often will give future Corvette owners even more incentives to keep trading in until they find the perfect color for their Corvette.
All Corvettes are Brown
Over the years I have a collected a few Brown Corvette photos which I have posted below. The Gallery gives us a better opportunity to see the color on different models than just the few C3 and C4 Corvettes listed above.
Is Zeus Bronze calling your name? Let us know in comments below what you think of the new color.

Related:
[GALLERY] Black Friday! (44 Corvette photos)
HOT or NOT: Chevrolet Shows Off New Shock Exterior on 2019 Camaro
Corvettes on eBay: 1998 Corvette in Rare Medium Purple Pearl Metallic