On Friday morning one of the largest leaks so far of C8 info occurred after a Corvette Forum member named "NBVette4U" posted about how he was able to spec out a 2020 Corvette from a Canadian Chevrolet dealership which apparently had access to the C8's order details.
His post included a summary of the car that he had spec'd plus several screenshots of the GM order system that contained options and equipment info. At first, it appeared that GM might have nipped it in the bud as the thread was locked, but by this afternoon it became apparent that the genie was out of the bottle after the documents were published by Jalopnik.
We had those documents before noon on Friday and originally elected not to publish them for several reasons. The information you are about to see is typically what you would learn during a reveal event and from the screenshots, we can clearly see the options, colors and other equipment that was specifically designed for the C8. As a Corvette enthusiast first and foremost, I wouldn't want to be known as THE GUY to ruin the reveal of the most anticipated new Corvette for some page views. We have friends on the Corvette Team that are working so hard to bring us this car and it should be revealed on their terms.
Secondly, releasing this info gets people fired and could even cause a dealership to lose its franchise agreement. Dave Salvatore of Kerbeck Corvette posted more about this on the Corvette Forum and said "But if the person was taking screenshots from GM Global Connect and sharing them publicly, that's a major violation of the dealer's franchise agreement. Also, dealer's are not supposed to share any information they know that is not available to the public."
Because these documents went public, the dealer is now in a very precarious position because of a potential customer's actions. And you can bet that GM knows which dealer, sales rep, and the name of the customer involved in this leak.
But as we said, the genie is now out of the bottle and the cat is out of the bag. With the information public, we now have the obligation (and opportunity!) to jump in and discuss the information that we've heard rumored for some time but can now confirm.
The first document posted on the forum details the options and equipment that was spec'd by the customer. We saw right away that the model year was 2020 and the model listed was 1YC07 which is the same model codes for the 2020 Stingray that was spotted by US dealers a couple months ago. Along with some of the special options and colors listed, we believed right away that this information was legit. This document will be posted last as we first want to get into the details of the car with the options available.
The standard equipment is very familiar to what Corvette enthusiasts have seen over the last generation with the C7 and while there is no pricing yet released, we do see how it could be possible to reach the price targets that have been rumored to be about $5,000-$7,000 more than the current Stingray models today.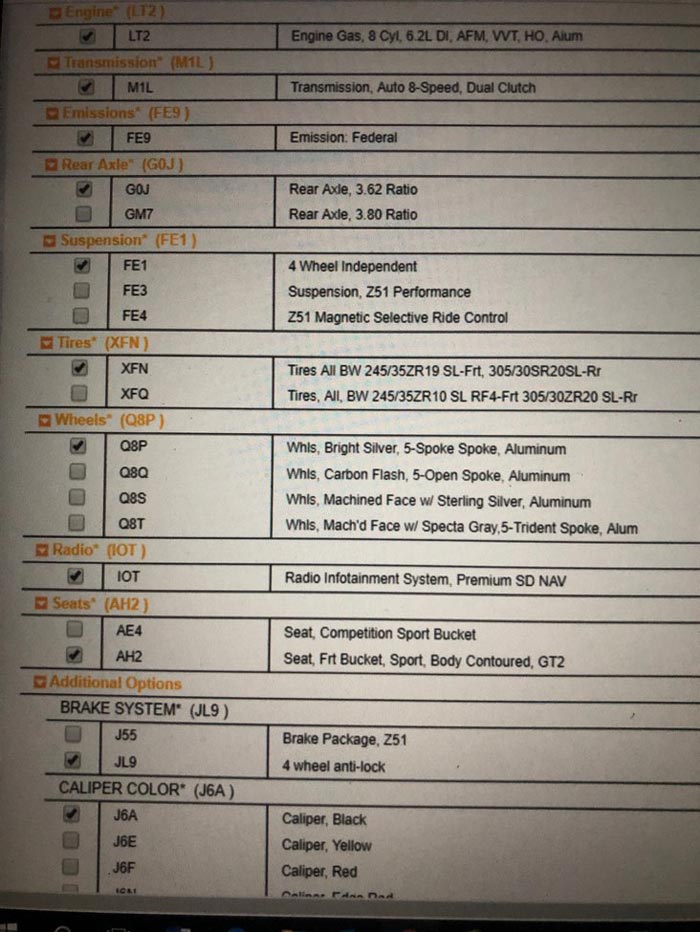 As has been rumored, the engine is listed as the LT2 with an 8-speed automatic dual clutch transmission that carries the M1L RPO. There are two rear axles offered, one with a 3.62 gear ratio and another with the 3.80 gear ratio. We think that one of them probably is associated with the Z51 Performance Package which is also offered on the 2020 Corvette. There are three suspension offerings that range from 4-Wheel Independent, Z51 Performance, and the Z51 Magnetic Ride Control.
Two different sets of tires are optioned so we're not sure if there will be an all-season tire offered directly from the factory or if there are different levels of the summer performance tires. Buyers will have the opportunity to select from four standard wheel designs and two optional designs. Additionally, center cap designs for the wheels include a choice of Stingray logos or a Jake logo (see below). We also see two different levels of brakes, one for the Z51 (J55) and a standard 4-wheel anti-lock option. Four different caliper colors are also shown including a new color called "Edge Red".

The next screen continues from the first and shows three full-length racing stripes in Carbon Flash, Sterling Silver, and Midnight Silver. Customers will be able to order exterior trim accents in Dark Shadow Metallic, Carbon Flash or body color. Badging will be available in both Chrome or Carbon Flash. We do see a dealer-installed option called (LPO RIK) which reads "Rear Badge, Painted Torch Red" on the summary below so it appears that at least a rear badge may be offered in different colors.
Interior trim colors include several new color options. One is called Sky Cool Gray which is most likely what we saw on the leaked interior photos from Carscoops. Two other new colors are named Morello Red and Natural. I am betting the Natural is somewhat similar to Kalahari but don't quote me on that. Also coming is a two-tone Tension Blue combined with Twilight Blue. Tension Blue came to fame on the 2017 Collector Edition Grand Sport while Twilight Blue was included in a few design packages and featured on the 2013 60th Anniversary Edition.
The C8 Coupe will have a removable roof and the choices appear to come straight off the C7's order guide with options that include a standard body color roof (CF7) or visible carbon fiber roof panel (C2Z). There are also options for dual roof package that includes the transparent roof panel (CC3) with either the body color roof or carbon fiber roof.

Next up is a screenshot of the color choices and interior trims. The C8 will return nine current colors and add three new exterior colors to bring the color choices to 12. The new colors are named Accelerate Yellow Metallic, Rapid Blue and Zeus Bronze. Cadillac has a Zeus Bronze and while we've been told its not quite the same, the Cadillac color is a pretty brown metallic with a lot of flake to make it shine.
With the new Accelerate Yellow being available for the C8, we expect this color to also make its way onto the C8.R which will begin racing in 2020.
The interior choices show the new colors (Sky Cool Gray, Morello Red, Natural and Two-Tone Tension Blue/Twilight Blue) available in Leather or Suede trims. The Natural color also shows as "Natural Dipped" on several options. A dipped interior is usually described as everything from the windshield down is one color.
Two seats are listed as choices (which are on the 1st screenshot) and they show a Competition Sport bucket seat and a Body Contoured bucket seat called the GT2. We also note that the customer says there are six seatbelt colors offered in Black, Red, Yellow, Gray, Blue, and Tan.

And finally, here is the document that outlines the options as spec'd from the customer, and who in our opinion made some questionable color choices unless he owns a McDonald's franchise or just wants to pay homage to the C8's first public sighting which occurred at a McDonald's in Cadillac, MI. Among the options he chose were Accelerate Yellow Metallic exterior with Morello Red interior, yellow seatbelts, and GT2 seats.
From this summary we make out a number of new C8 specific options that include full video display mirrors, rear park assist, side blind spot alert and cross traffic alerts. Also coming is the rumored Adjustable Front Lift system, a 12-inch configurable color gauge cluster, and a digital audio system with a 14 Bose Audio speakers.
Returning options include the NPP Performance Exhaust, Performance Data Recorder, and Performance Traction Management (PTM).
One of the interesting dealer-installed options is a visible carbon fiber front grille insert (LPO RZ9) that we probably saw on the Nurburgring cars. This option is separate from the Front License Plate bracket (VK3) so it appears the grille insert isn't just for those owners who state requires a front license plate.

And with that, we conclude our reveal of the 2020 Corvette. It's a shame that this information has come out the way it has to the detriment of the Corvette Team, but at the same time, it does answer many of the questions that Corvette enthusiasts have had since the first sightings of the C8 Corvette. There's a lot to unpack here so if you come across something we might have missed, let us know in the comments below!

Source:
CorvetteForum.com

Related:
[SPIED] New C8 Mid-Engine Interior Spy Photo Reveals 'Stingray' Name
[SPIED] The C8 Mid-Engine Corvette Hits the Nurburgring!