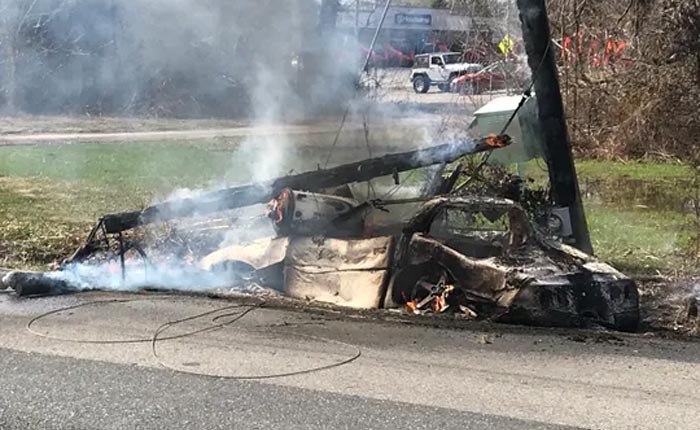 Not much useful still remains of this classic C4 Corvette after it went up in flames Tuesday morning.
And you have to feel bad for the owner as Senior Trooper Chad Zenzen of the Virginia State Police says the guy "just bought it."
We're not sure if he meant that very day or just sometime in the recent past, but either way, this Corvette – which apparently was pretty nice pre-crash with just 70,000 miles on the odometer – is now burnt toast.
Fortunately, the driver, who lives in Stuarts Draft, Va., escaped without injuries after the crash, which happened about 11 a.m. on Old White Hill Road, about 70 yards from Stuarts Draft Highway. He does, however, face reckless driving charges.
Zenzen says the driver apparently lost control of the Corvette shortly after turning onto Old White Hill Road from Stuarts Draft Highway. The C4 went into a spin and knocked down a utility pole before erupting into flames.
Video posted by the newsleader.com shows small pockets of flames still blazing up on the car, even after firefighters had extinguished the bulk of the fire. The driver was fortunate that the snapped-off utility pole and transformer landed on the windshield of the car and not further back in the cockpit of the car, which remains recognizable as a Corvette mainly by the wheels and the back taillights.
Traffic was blocked for about two and a half hours, and it took several more hours for the wreckage to be fully cleared.
On the scene were Virginia State Police, Augusta County Fire-Rescue, Stuarts Draft Rescue Squad, and Stuarts Draft Volunteer Fire Company, along with Dominion Energy.

Source:
newsleader.com

Related:
[ACCIDENT] Fire Destroys a New C7 Corvette at a South Florida Dealership
[VIDEO] Too Much Boost? Turbo C6 Corvette Nearly Lights Shop on Fire
Corvettes on Craigslist: Is this Burnt 1967 Corvette Big Block Worth Saving?