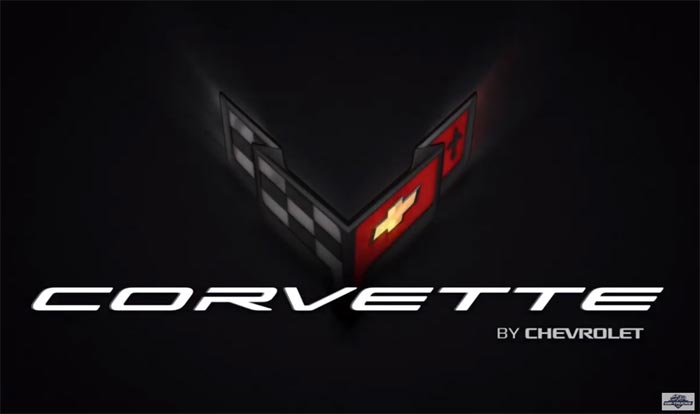 Yesterday our friends at GM Trucks offered a better look of the new crossed flags logo for the 8th generation Corvette.
It's been seen before on the leaked FCC key-fob documents but not with the clarity that the digital logo offers. Topping off yesterday's reveal was the promise of even more news from the GM truck forum and boy have they delivered!
This morning, GM Trucks unveiled the 2020 Corvette's startup animation which owners will see on the gauge cluster when starting up the car.
The animation features the "Corvette by Chevrolet" script that appears first, and then a blacked out version of the C8 logo bursts into view in the center of the screen:

Right away we noticed that the "CORVETTE" script that appears is different than the C7s script which features the letters "COR" and "VETTE" that are connected with each other. The C8 Corvette script is similar in font design but is simpler as each letter stands on its own.
Here are the C8 and C7 "CORVETTE" scripts so you can see the differences:

Like the C7 Corvette, it appears that owners will at some point have the opportunity to order their C8 Corvettes with either the bright jeweled version or the blacked-out versions. We're not sure if that choice will affect the choice of logo designs in this startup animation
The C8 Corvette's interior is just one of the mysteries of the car that we can't wait to see in the flesh. The C7 Corvette has two screens in its cockpit, one of the gauge cluster and the other for the center IP. The C7's dash cluster is 8 inches wide and features a combination of digital and mechanical gauges. The rumor for the C8 is that the dash will go full digital while another rumor says we could see the screens enlarged to a whopping 12 inches in size.

GM-Trucks tells us that the animation shared comes from a publically available file by a third party and was passed along to them. Until GM decides to reveal the C8 Corvette, I'm sure we'll be seeing more of these "mini-reveals" as tidbits and features continue to "drip, drip, drip" from those working on the project.

Source:
gm-trucks.com

Related:
[SPIED] C8 Mid-Engine Corvette's Digital Crossed Flags Logo Revealed
[SPIED] Carscoops Shares First Photos of the C8 Mid-Engine Corvette's Interior
[SPIED] 2020 Mid-Engine Corvette Keyfob and C8 Logo from FCC Filing