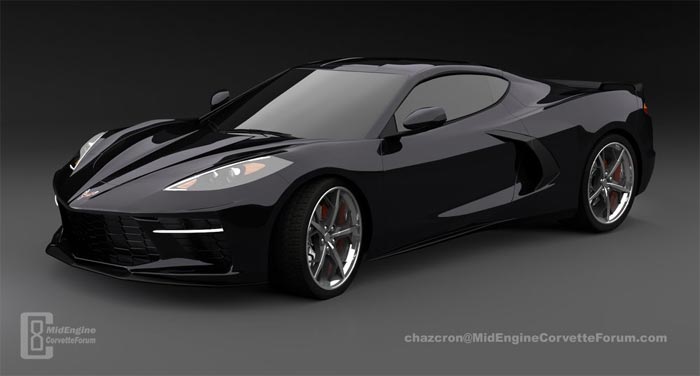 Those rumors of a surprise reveal of the C8 mid-engine Corvette at NAIAS fell flat today with no surprise reveal nor a Corvette team member in sight anywhere on the floor at the Detroit auto show. Hardest hit was Zerv02 on the Corvette Forum who said his source has never let him down, until he did.
We won't pile on Zerv02 too much since his original sketch did pretty much nail the C8's interior layout. If this episode tells us anything, it's that some people might have some info about the new car, but nobody has all the details except those on the Corvette team. I will also mention that Zerv02 has also guaranteed the starting price of the ME at $169,900 so take that with a grain of salt as well.
On a happier note, we do have some great new renders to share from the guys over at the MidEngineCorvetteForum.com who describe the black C8 from Chazcron as "So enticing, go gorgeous, yet not sinister." For the record, there is nothing wrong with sinister when it comes to black Corvettes. But first up is this Chazcron rendering featuring a rear view of the 2020 Corvette in Long Beach Red.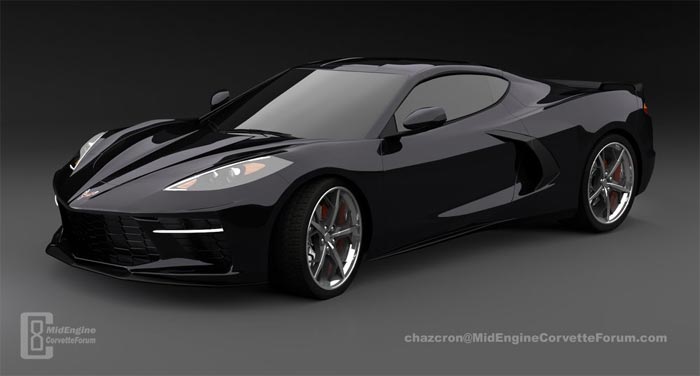 Or do you prefer this long, low and lean render from FVS in Sebring Orange!
If you like these renders then check out the friendly and knowledgeable peeps at the MidEngineCorvetteForum.com. There are now over 500 threads of C8 info and growing.

Source:
MidEngineCorvetteForum.com

Related:
[PICS] FVS Renders the C8 Mid-Engine Corvette And Dishes Thoughts on the Side Scoops
[VIDEO] New C8 Corvette 360-Degree Render from bdsvavars
[VIDEO] New Chazcron C8 Mid-Engine Corvette 360 Degree Spin