Man, we sure do love a good barn find Corvette around here!
Next up is this uber rare LS6 equipped 1971 coupe. Of the 21,801 Corvettes built in 1971, just 188 (less than 1%) were equipped with RPO LS6, the 425hp 454CI big block engine. The stump-pulling aluminum head big block added a whopping 22% ($1,221) to the coupe's base price of $5,496.
The crew over at Super Chevy Magazine bring us this tale of Kris Smith's red/red 1971 LS6. Smith's story with the LS6 began way back high school in the mid-1970's. He, at the time, had a 1969 L46 350/350 which he eventually grenaded and replaced with a LT-1. His friend Harry had a 1971 big Corvette with chrome hooker side pipes.

As the years went by Kris had heard that the Corvette was still around, but never actually laid eyes on it. Finally, in 2005 he saw that car sitting in Harry's parent's yard. From there he tracked down his old buddy and inquired about the car. Harry wasn't ready to sell but later did agree to store it in Kris' barn to prevent further deterioration. Kris stored the car for a few years until Harry was ready to sell. Kris was so eager to get the car that he raced out that night to transfer the payment.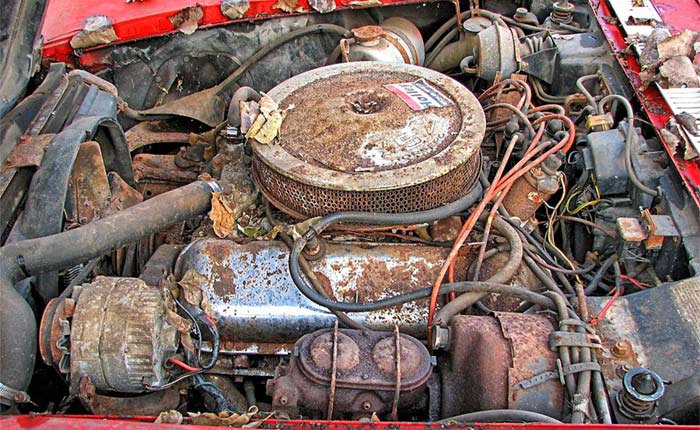 As you can see from the photos, this 1971 LS6 was a total basket case. All of the basics were there, but every piece needs to be restored after who-knows-how-many years outside. The engine compartment is full of leaves and dirt. The Starsky and Hutch paint scheme is long past its prime. The chrome side pipes and Cragar SS wheels are rusted. Inside the red carpet is black in spots, but overall looks to be pretty intact.
We don't know much more about Kris' LS6, but Super Chevy's piece is written like the car has now been restored or at least roadworthy once again. Given the rarity of a red/red, automatic LS6 it will be great to see this monster back on the road again. Hopefully, they'll post a follow up so we can see the car in a more road-worthy condition.

Source:
Super Chevy Magazine

Related:
Red on Red 1971 LS6 Convertible Headed to Russo and Steele Scottsdale
Barrett-Jackson 2011: Rare 1971 LS6 To Cross Auction Block on Saturday
[VIDEO] Restoration Update on the Barn Find 1966 Corvette Pulled From Iowa Farm