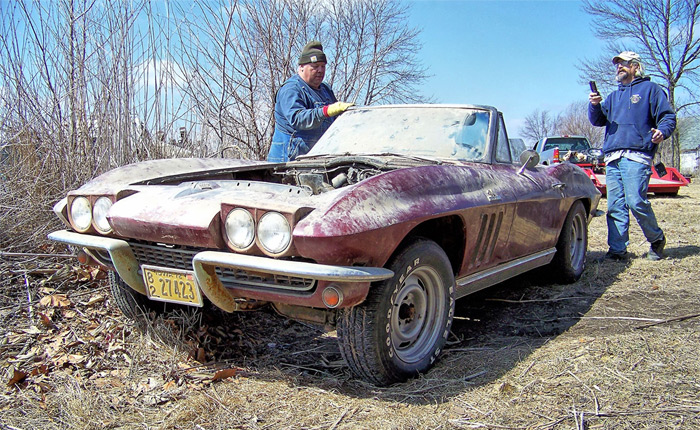 We first told you about David Engler's fulfillment of a lifelong dream a few days ago when he found a 1966 Corvette convertible in the back of an aluminum truck box where it had been stored since 1974.
Now Jerry Heasley, who does a great job documenting barn finds like this one, has gone a step further – just posting a three-part series on YouTube detailing David's journey to make the car into a real dream Corvette. You've got to watch these very interesting videos, which last a total of about 20 minutes, if you ever considered restoring a Corvette. You won't believe the difference time and hard work can make!

The job definitely wasn't an easy one, but just watching these videos almost made us feel like the car was at least a little bit ours! We can't imagine how proud David is to have accomplished this.
His hard work definitely made a believer out of his initially skeptical wife.
"When I first drug it out," David said, "my wife came out and said, 'What are you gonna do with this pile of junk?' I said, 'Honey, this is gonna be a beautiful car someday. Believe me, we're gonna make a nice car out of this."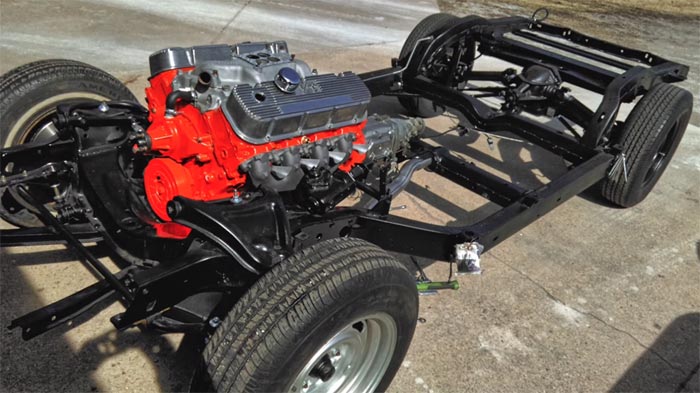 That was on March 29, 2014.
Some 3½ years later, David had lived up to his promise.
"It turned out pretty nice, from when I first drug it here to what it is now," he says. "It really turned out nice – there are a few things that aren't perfect, but it was just a perfect fit for me because it was something I had wanted my whole life.
"I learned a lot while I was working on it, and it was just a ton of fun to rebuild the car. I knew every dime I spent on it and the hours I spent on it were well worth it because I knew what I bought when I bought it and I knew it was gonna be a beautiful car when I got it finished. And it turned out to be that. It's fun to drive, and the 427 – I love a big block. I've got a big block in my Camaro. I like the big block sound – it sounds so doggone cool!"
Watch the videos for a step-by-step process of the restoration, including the first step of just pressure-washing all the mouse droppings and other debris off the car – even inside the doors – with a bleach and water mixture.
And that was only the beginning.

It's the little things that impressed us about David's effort. Just to have a place to store the body safely while he worked on the chassis, he built a wooden cart on rollers. Just doing that would be an accomplishment for many folks, but that was only a minor, minor footnote in this project. Getting the paint off the body was a three-month project, using a single-edge razor blade to scrape it off – in the middle of an Iowa winter without heat in his 36×40 shop.
But don't think David does this for a living, though it's obvious with his natural talents, he might want to get into the business even if he is in his 60s.
"My wife and I did the upholstery on the seats," he explains at one point. "I'd never done that before. I got a couple of little tiny wrinkles in the seat that aren't perfect, but I take credit for doing it. And if somebody wants to nitpick about the things that I did, I don't have a problem with that.
"So I did it myself, and I learned as I went. I mean, I didn't pay people to do this. Yeah, you can take a car like this and take it somewhere and spend a couple of hundred thousand dollars on it and have somebody restore it. But to me, doing it myself with the help of a few friends, I enjoyed it much more than I would have, had someone else done the car. I like working on things myself, and I got the satisfaction of knowing if something's not right, you can blame me, that I said I did the best I could with the abilities I have, and that's why it turned out like it did."

He pauses to laugh and continues that despite the do-it-yourself nature of this restoration, "I stuck a pretty good amount of change getting it built too."
David says he has "just shy of $40,000" in his 427/437 hp Corvette, including the $7,000 he paid originally, "which I still think I'm in really good shape – I know the car is worth more than that."
No doubt about that, but since this is his ultimate dream car anyway, David says he has no intentions of ever selling it. "I got three kids that'll want to fight over it someday," he jokes.
Back in 2014, David had found out about the car from a young co-worker named Lyle who told him his uncle had an old Corvette that had been stored on his farm for many years.
"Lyle said, 'Well, my uncle's got this old Corvette out there, but I don't know if he would sell it.' I told him to start pestering his uncle to see if I could get the thing bought," David says. "One thing led to another and he finally called and asked me if I was interested in the old Corvette. And I said, 'Yes, I am.' That was on a Friday. And he said, 'When do you want to look at it?' And I said, how 'bout Saturday morning about eight o'clock? So, I went and looked at it that following day and told him I was very interested. He said, 'Let me think about it over the weekend.' And he called me back on Tuesday and said he'd sell it."

Then came the fun part, or at least the beginning of the fun part.
Engler and three other men, including his oldest son, Trent, went to pick up the Corvette out in the country, tromping through weeds "higher than our heads" just to get to it. They then dug through several feet of dirt just to get the side door of the building open, but imagine their excitement when they caught their first glimpse of the back of the old red Corvette, which was visible inside the old aluminum truck box where it had been stored.
After putting some old tires on the car, ones that weren't flat-bottomed like the originals from sitting in the same spot for decades, they were finally able to roll the Corvette out of its long-time "coffin," and it finally saw sunlight again for apparently the first time since 1974, or at least that was the last year on the license plate.
Now the car sports current license plates and has been to three or four car shows in the past year, where folks can't believe it's the same Corvette in the "before" photos.
"But believe me, it's the same car – it just takes a lot of work."
And a lot of dreaming.

Source:
Jerry Heasley / YouTube

Related:
1966 Corvette Found Stored in an Old Truck Box on an Iowa Farm
Rare Sportsman Red 1954 Corvette Barn Find Parked for Half a Century
Corvettes on eBay: Unrestored 1965 Corvette Coupe with 327/365-hp L76 V8