It makes you want to look inside every old barn or shed you run across these days. You never know what you might find hiding in there.
That's because yet another Corvette barn find has turned up, this time in Chalfont, Pennsylvania, where 53 bidders have already driven the price for this four-speed 1965 Sting Ray convertible up to $28,700 as of today, with the bidding set to stop at 9:42 p.m. Saturday.
The black on black Corvette has been stored in a garage for the past 34 years.
The seller, who is auctioning the car on eBay, didn't provide many details about the car in his listing, other than "the motor turns over however it does not run."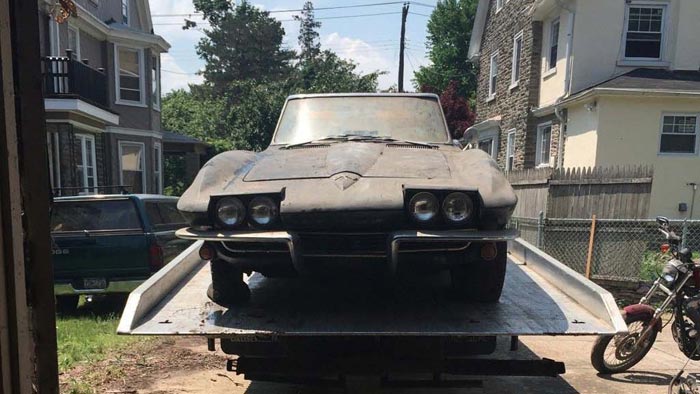 However, he does encourage potential buyers to call him if they have any questions or would like more photos.
What he lacks in verbiage, though, he makes up for with a large group of photos that to the trained eye should offer some useful information about the condition of the car.

The Corvette is listed as being powered by a 327/350hp engine, which we don't know for sure is the matching numbers original, though the seller has included a photo of the block stamping so it shouldn't be hard to figure that out.
Like the rest of this Corvette, the interior is dirty but a quick glance shows all the major parts still there. A little elbow grease might do wonders for this one, making it a potential candidate to just become a survivor depending on how good the car actually looks up close.

While photos can be misleading, the car's body and paint appear to be in fairly good shape, considering the slow-moving journey they've been on since 1984. Thankfully, the bumpers are still there, too, though it's unclear how good they could look with a little work.
The convertible top is in rough condition, but that's an easy fix, though not necessarily a cheap one.
What would you do with this diamond in the rough? Polish her up and make her into a trailer queen, or just dab a little makeup on her and drive her on down the road for awhile?

Source:
eBay via BarnFinds.com

Related:
Corvettes on Craigslist: 1958 Corvette Roadster is a Backyard Basket Case
Corvettes on eBay: 1957 Fuelie Corvette Barn Find
1966 Corvette Found Stored in an Old Truck Box on an Iowa Farm