David Engler is living proof that you're never too old to have your dreams fulfilled.
"I wanted a Corvette my entire life," he said. "I'm 66 years old now and my wife said, 'Well, you'll probably never have one,' and then I found it, this one."
"This one" just happens to be one of the baddest C2 Corvettes ever built – a 425 horsepower 1966 convertible. Back in 2014, he found out about it from a young co-worker named Lyle who told him his uncle had an old Corvette that had been stored on his farm for many years.

"Lyle said, 'Well, my uncle's got this old Corvette out there, but I don't know if he would sell it.' I told him to start pestering his uncle to see if I could get the thing bought," Engler says. "One thing led to another and he finally called and asked me if I was interested in the old Corvette. And I said, 'Yes, I am.' That was on a Friday. And he said, 'When do you want to look at it?' And I said, how 'bout Saturday morning about eight o'clock? So, I went and looked at it that following day and told him I was very interested. He said, 'Let me think about it over the weekend.' And he called me back on Tuesday and said he'd sell it."
Then came the fun part.
Engler and three other men, including his oldest son, Trent, went to pick up the Corvette out in the country, tromping through weeds "higher than our heads" just to get to it. They then dug through several feet of dirt just to get the side door of the building open, but imagine their excitement when they caught their first glimpse of the back of the old red Corvette, which was visible inside the old aluminum truck box where it had been stored.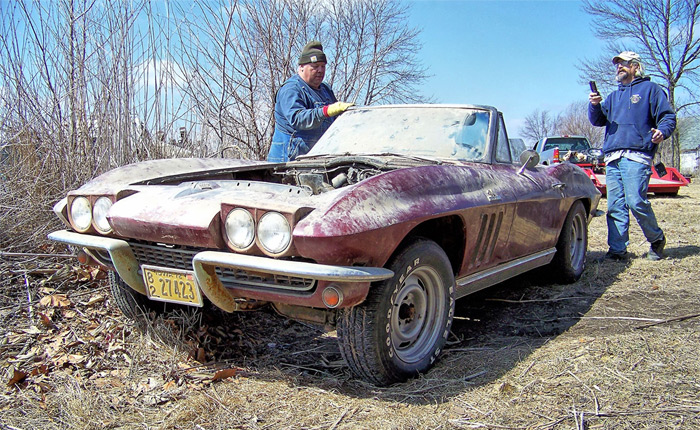 After putting some old tires on the car, ones that weren't flat-bottomed like the originals from sitting in the same spot for decades, they were finally able to roll the Corvette out of its long-time "coffin," and it finally saw sunlight again for apparently the first time since 1974, or at least that was the last year on the license plate.
While there was a big empty hole where the engine had once roared, the owner had actually just taken the original matching-numbers motor out of the bay and wrapped it in burlap soaked in oil and put it in a metal crate for safe-keeping.

Engler also discovered other bits of good news – the brakes weren't locked up, and he didn't even have to replace the rotors, just have them turned. He also found a bellhousing on the ground nearby – but to free it, he had to cut down a tree that had imprisoned it.
All this activity initially went down in 2014, and Engler finally finished a complete restoration about a year ago, having sold his 1923 T-bucket to finance the purchase of the Corvette and subsequent repairs.
A small price to pay for the fulfillment of a lifelong dream, though.

Check out the full photo spread and article at SuperChevy.com.

Source:
superchevy.com

Related:
Rare Sportsman Red 1954 Corvette Barn Find Parked for Half a Century
Corvettes on Craigslist: Barn Find 1968 Corvette Convertible with 427/390 V8
Corvettes on eBay: Barn Find 1958 Corvette With VIN 020