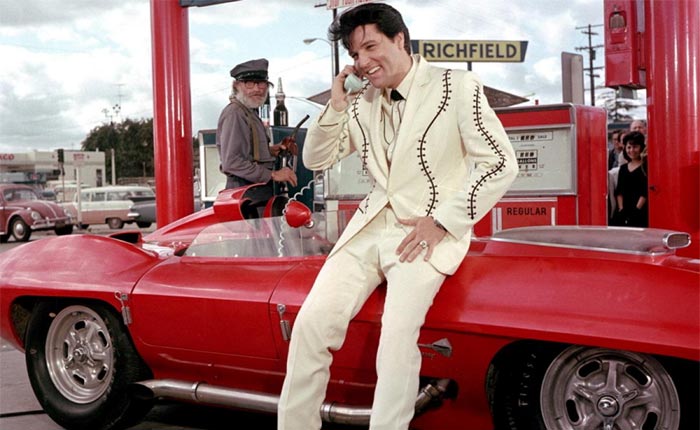 Hey, today is Elvis Presley's Birthday! If the King were alive today, he would be 83 years old and I bet his hair would still be awesome!
Last year was the 50th anniversary of the Elvis movie "Clambake" which came out in 1967. Elvis played the son of a wealthy oil tycoon who only wants people to like him for who he is and not for his wealth. So he switches identities with a car mechanic played by Will Hitchins and the two head to Miami for the boat races.
Did we mention the car?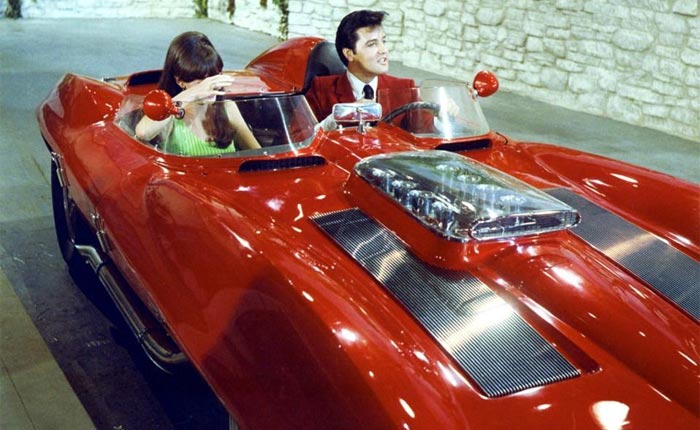 For Corvette enthusiasts, the star of Clambake is the 1959 Stingray Racer concept, the car that is said to be the opening design salvo in what became the 1963 Corvette Sting Ray.
The '59 Stingray Racer has its own unique history. Designed by Peter Brock and Larry Shinoda, the chassis was provided from one of Duntov's 1956 Corvette SS tubular frame racers. GM's styling chief Bill Mitchell purchased the chassis and then directed and funded the design of the car in Chevrolet's secretive Studio X. Once completed, Mitchell took the car racing as a privateer. The Stingray Racer was raced in 1960 SCCA competition by The Flying Dentist, Dr. Dick Thompson, who would bring home the C-Modified class championship in the car.
Although we remember the car mostly in its silver exterior, at one point it was painted red and was provided a new scooped hood which is how it is shown in the movie. One of musical scenes from Clambake is called "Who Needs Money" and it features the car with Will Hitchens behind the wheel with Elvis following along on a motorcycle:

GM would reacquire the Stingray Racer from Mitchell and it was restored back to its original configuration with a period-correct 283 V8. Today the car resides at the GM Heritage Center in Michigan, however, I believe it's currently on loan to the Petersen Automotive Museum in LA.
And that completes your history lesson today boys and girls. Thank you…thank you very much!
Happy Birthday, Elvis!

Source:
thetruthaboutcars.com

Related:
Corvettes on Craigslist: 1985 Corvette Batmobile
KACHOW! Texas Man Creates Lightning McQueen Tribute with C6 Corvette
[PIC] Throwback Thursday: 1959 Corvette Stingray Racer with the 1956 Corvette SS