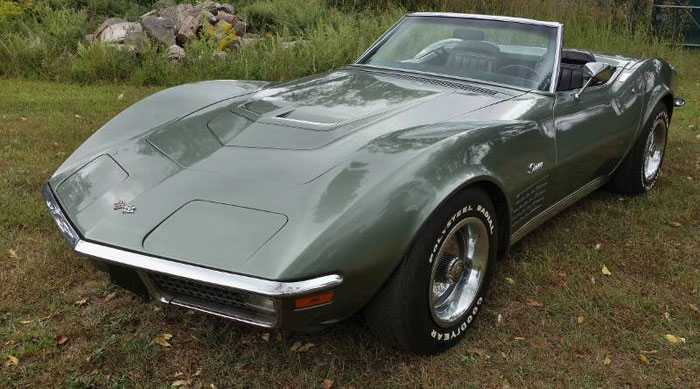 The world is abuzz with the 2019 Corvette ZR1, producing 755 horsepower and a top speed greater than 210 mph, that will go on sale next spring.
While these cars will be rare, mostly because of their anticipated price north of $120,000, they won't be as rare as one of the original ZR1s produced from 1970 to 1972.
In fact, the rarest ZR1 of them all is up for sale on Hemmings – it's the only ZR1-equipped 1971 convertible ever made by Chevrolet.
While the new ZR1s will likely be suitable for daily driver use, the original ZR1s were really made just to be used on the race track. You couldn't get one with air conditioning, power windows or power steering, radio, alarm system, or rear window defroster.

Instead, the $1,010 ZR1 package was an add-on to the high-revving LT1 package and included goodies like transistorized ignition, lightweight flywheel, special starter, special aluminum radiator with expansion tank and steel fan shroud, and deleted ignition shielding. It also included the Muncie M22 "rock crusher" four-speed transmission, aluminum driveshaft, and Positraction differential, along with J56 heavy-duty brakes and F41 suspension with a heavy-duty front sway bar, seven-leaf rear spring, heavy-duty shocks, and heavy-duty rear spindle struts.
Only 53 ZR1s were produced – 25 in 1970, just eight in 1971, and a final 20 in 1972.
The lone 1971 convertible up for sale now once belonged for 25 years to Gary Konner, who managed the famous Malcolm Konner Chevrolet in Paramus, N.J., with his brother, R.J. Konner. (Their father Malcolm died in 1983.)

The car was originally sold new by Mancuso Chevrolet in Skokie, Illinois, but Konner eventually bought it after taking it as a trade-in on a 1987 Callaway Corvette. At the time, it had the correct Steel Cities Gray paint, but Konner discovered the car had at one time been painted black. The new owner will get full documentation and NCRS validation.
"I wish I had never sold it," laments Konner, who now sells real estate in Florida. "It was such a great car to drive. I used to take it to the gym."
Don't cry too loudly for Konner, though. He still has the first 1995 ZR-1 produced and serial #1 Corvette Challenge race car from 1988!

Source:
Hemmings.com via hagerty.com

Related:
Rarest Corvette Small Block: The 1970-72 Corvette ZR1
Rare 1970 Corvette ZR1 Convertible Heading to Russo & Steele's Monterey Auction
1971 ZR2 Corvette to be offered at Mecum Kissimmee