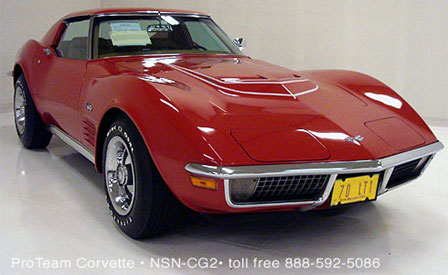 Obviously we're big on Corvette ZR1's here at CorvetteBlogger because the car has pushed the boundaries of performance compared to the regular Corvette. But we also love classic small block Corvettes as well. So with the help of Proteam Corvette's Terry Michaelis, we thought we'd combine our interests and travel back in time to take a look at the very first Corvette ZR1, the 1970-72 Street Legal Racer.
Although it would be another 20 years before the Corvette ZR1 would earn the title of King of the Hill, its predecessor set the bar high in terms of performance. In 1970 Chevrolet introduced this limited production radio delete car to the racing world. Dubbed the ZR1 based on the name of its RPO package, this successor to the L88 Corvette came equipped with the potent LT1 350 ci 370 hp small block and all the specialty options that were found on the L88s that were retired the previous year.
In addition to the LT1, the ZR1 package included an M22 rockcrusher 4-speed heavy duty transmission, J56 Heavy duty power brakes, transistorized ignition, special aluminum radiator and a suspension that included special springs, shocks and front and rear stabilizer bars.
Production of the ZR1 was limited to 1970-1972, the same three year time span of the LT1 engine. During that three year run, only 53 cars were ordered with RPO ZR1: 25 in 1970, 8 in 1971 and 20 in 1972. The ZR1's of the 1970's are the rarest small block Corvette ever produced.
Identification features of the 1970-72 Corvette ZR1 include:
LT-1 engine, suffix CTV-1970, CGY-1971, or CKY-1972,
J-56 heavy duty brake package with dual pin front brake calipers (power),
F-41 heavy duty suspension package, 7 leaf rear spring, heavy duty shock absorbers, heavy duty 5/8 front sway bar and heavy duty rear spindle struts,
M-22 (rockcrusher) transmission,
large aluminum radiator with expansion tank (no other LT-1 equipped car has an expansion tank),
steel fan shroud, other than 1972's (most),
radio delete (no fenders drilled for antenna). The ZR-1 package could not be ordered with any creature comforts, ie: air conditioning, power windows, power steering, radio, alarm system, rear window defroster, or special trim items like P02 wheel covers.
As an investment, the C3 Corvette ZR-1 is poised for growth, especially those from the first year (1970) where horsepower was at its highest mark. For the cost of a 1967 L71 Big Block, you can own a performance Corvette with a production limited to just 25!
This Corvette ZR1 has been marked down from $149,000 to $130,000 as part of Proteam Corvette's 911 Emergency Sale. But if you're interested, you better move fast because the sale ends on September 30th.
Protream Corvettes
and tell them CorvetteBlogger sent you!

Source:
tMichaelis Corvette Perspective
Proteam Corvette
Related:
When Money is No Object: Terry's Corvette A-List
Corvette Documentation: The Three Truths from Proteam's Terry Michaelis
Technorati Tags:
Corvette | Vette | ZR1 | Classic | C3 | Proteam | 1970 | 1971 | 1972 |