New spy photos show the much rumoured mid-engine C8 Corvette out in public for the first time. Not only were multiple C8s spotted in public, but it's almost as if the Corvette team members wanted the cars to be seen by going through a McDonald's drive-thru in Cadillac, MI.
If being seen was the goal, then Woodward Facebook group member Josh Busenbark was happy to oblige and posted these of the mid-engine Corvettes to the social media platform.
This is great news for Corvette enthusiasts. With the appearance of the car on public streets, Chevrolet must be moving to the point where the cars will be driven heavily to generate as much testing data for the development team. Like the ZR1 tests, expect to see the car in various locations around the country in the coming months.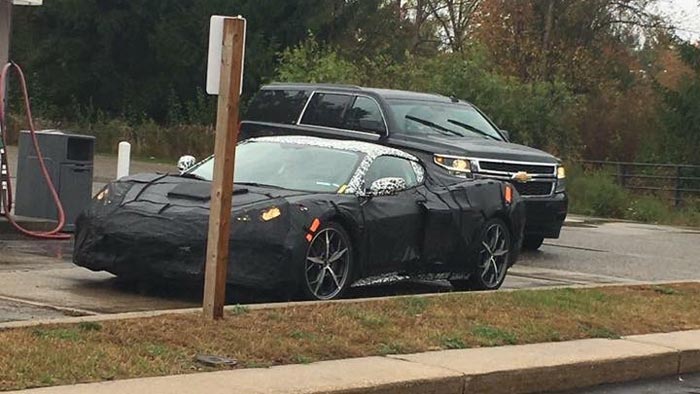 The shape of the C8 Corvette is what is expected from a mid-engine: A shorter front end and a very large windshield, the gradually sloping roofline leads to the rear deck which comprises the engine compartment and then a flat long deck to the rear. Quad exhaust ports can be seen as well.
The cars do look complete in terms of their physical design and the testing should go on for about year. With this first public appearance, I think the mid-engine's timeline is starting to settle in based on the previous new Corvettes we've watched come to market. They will test the car in camo for a year and then the C8 Corvette will be unveiled in 2019 at NAIAS with production starting up later in the year as a 2020 model. That gels with other tidbits of info we've picked up here and there.

We also find it kind of interesting that the mid-engine Corvette would be shown in public before the reveal of the C7 Corvette ZR1. Dealers tell us that demand for both cars is high and there is no doubt that despite the two cars being very different, the last C7 and the first C8 may be in competition for the same buyer's dollars.

Source:
MotorAuthority.com

Related:
New Spy Photos Show C8 Mid Engine Corvette as Engineers Scramble to Cover it
Car and Driver's Don Sherman Looks Into Crystal Ball for the Future of Corvette
[SPIED] Mid Engine C8 Corvette with C7 ZR1s Undergoing Cold Weather Testing