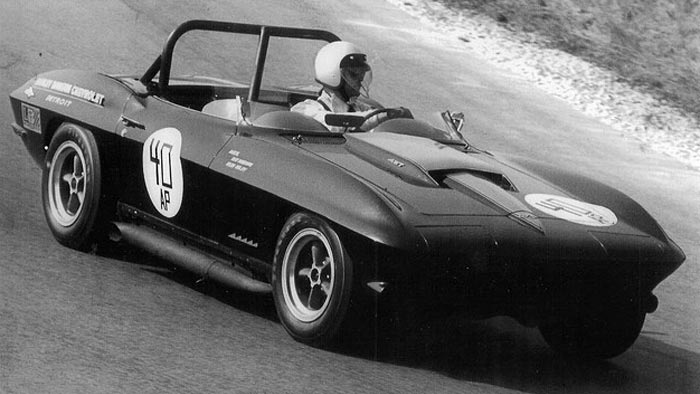 Photo Credit: The DeLorenzo Racing Archives

It's time for Throwback Thursday where we feature vintage photos of Corvettes. Today's picture features Corvette Hall of Famer Tony DeLorenzo earning his first win in "A Production" at a SCCA Regional in a 1967 L88 Corvette Roadster sponsored by Hanley Dawson Chevrolet in May 1967.

Peter M. DeLorenzo recently wrote about his older brother's early racing experiences at his website, the AutoExtremist. If you love to hear insider stories about Zora Arkus-Duntov and the early days of Corvette Racing, you should run over there right now as I will never be able to do the story justice. I will however preview the time Tony DeLorenzo got a Corvette as a company car, stripped it and went to racing school.
Being the son of GM's public relations chief offered Tony the opportunity to sample many of the performance cars being built in late 1950s and into the 1960s and sample the merchandise he did. First starting with the company cars offered to his parents, including Pontiac Bonnevilles or Catalina's that always had the highest horsepower drivetrain, Tony then graduated to Corvairs and then Corvettes.
Tony asked his dad for "permission" to order a Corvette company car for the summer 1964 and "Big Tony" said yes, not knowing that his son planned to take it to SCCA Driver's School in Watkins Glenn, NY. That Corvette was a Black/Black fuel injected 1964 Coupe with heavy duty finned drum brakes, heavy duty gearbox, knock-off wheels and radio delete. When he got the car, Tony stripped out the interior carpet, the bumpers were taken off, the spare tire carrier removed and a roll bar was installed.
Days before he was to leave, Zora called Tony, asking who was going to be driving the heavy duty Corvette his father just ordered. After some silence, Tony told Zora he was going to SCCA driver's school. Zora said okay, just bring it by Chevrolet Engineering so he could take care of a few things.
The 1964 Corvette was then "Zora-ized" as the car was lowered and sat on the biggest Goodyear Blue Streak racing tires that would fit under the Sting Ray. Zora modified the exhaust with 4 foot long straight pipes. The engine, suspension and brakes were all gone through and it was described as being fast as a rocket!
Photo Credit: The 1964 Corvette from The DeLorenzo Racing Archives

There is a lot more to this story, so like I said, head over to AutoExtremist to read it all!
We love these old photos which are such an essential part of Corvette's history. As always, if anyone has additional info, feel free to post in the comments section below.

Source:
AutoExtremist
Related:
[PIC] Throwback Thursday: Testing a 1963 Corvette Z06 Prototype at Sebring
[PIC] Throwback Thursday: 1968 Corvette Show Display
[PIC] Throwback Thursday: A Corvette Selfie Taken in 1968
[PIC] Throwback Thursday: The First Three Chief Engineers of Corvette
[PIC] Throwback Thursday: Zora with a Couple of 1971 Corvettes