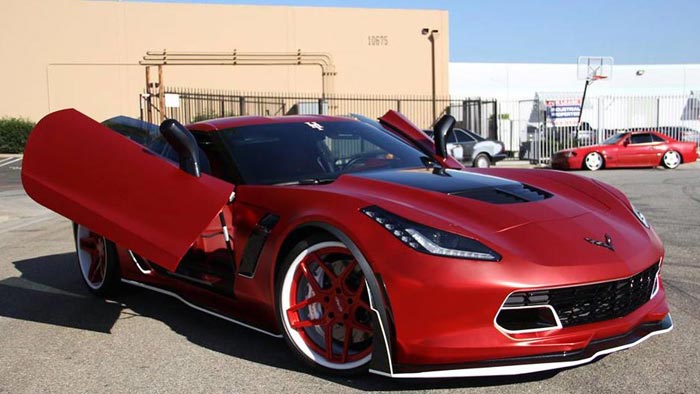 Here's a cool Corvette Z06 that underwent a transformation to make it a one of a kind ride for the car's owner. And that's always been one of the draws for people who want to own America's sports car. The Corvette Z06 was the canvas to be customized however the owner wanted and he's obviously a fan of Red and White.
With the addition of the Lamborghini style doors, custom two-tone wheels and a custom Satin Red Chrome wrap from Impressive Wrap, this Corvette Z06 could star at any car show. While you probably wouldn't spot it out on the track for a high performance driving event, but it's more than ready for any booth at SEMA!
We're not big fans of the red and white wheels, but the white wheels and calipers do help with accenting the Satin Red with the custom white outlines found on the front spoiler, grill and side rockers. The white outlines continue on the rear quarter vents and rear brake air intakes as well as the rear spoiler.
The Satin Red Chrome wrap from APA America is very bright, but the matte red doesn't blind you with the bling that a metallic wrap would do. The Z06 is further accented with a Black hood stinger graphic along with the matching satin red eyebrows covering the insides of the Corvette's headlights.
It's a customization that goes further than perhaps you or I would do, but we think the execution overall is very good. All that really matters is that owner likes it. And that's good enough for us.

Source:
Motorward.com

Related:
[PICS] Lavender Turquoise Wrapped Corvette Stingray is a Multi-Colored Beauty
[PICS] C7 Corvette Z06 Is Repainted an Envious Green
[PICS] Corvette Z06 Gets a Satin and Carbon Fiber Overhaul from ACG Automotive