The Corvette plant is capable of handling the paint duties for the 10 colors that are currently in the Corvette's exterior color palette. But what if you want something a little different? Once you decide to wrap or repaint, your color choices become unlimited.
Just down the road from CorvetteBlogger's Southern Command is Stingray Chevrolet, a top 10 national Corvette dealer and the largest dealer of new Corvettes in the state of Florida.
We've featured one of their Corvettes previously, a purple-wrapped Corvette Stingray, which you can see photobombing this new photo of a Corvette Z06 repainted as a bright Green.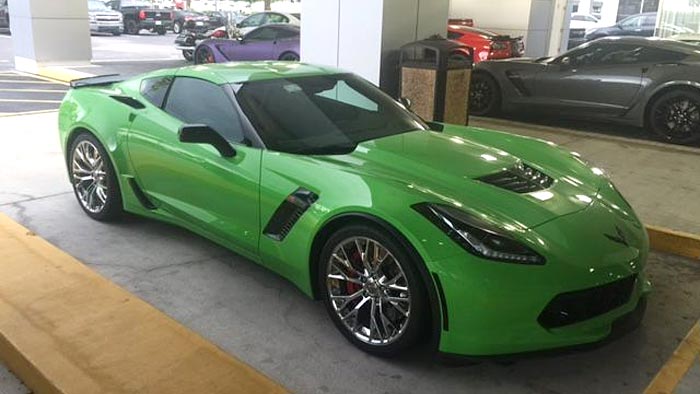 The pics were posted on the Corvette Forum and shows the green Z06 from a couple of different views. While it reminds of a color that Forgiato would do on one of their widebodys, this Z06 was modified with paint only while the body remains stock.
The Green is one of those colors that you will instantly like or dislike, but one thing is for certain – it will not be forgotten!
While discussing the color on the Forum, another member posted a photo of a Tangelo-orange Corvette Stingray, with the Carbon Flash badges, black wheels and a Z06 grille.

If you have repainted your new Stingray or Z06, we'd love to hear from you. Send a photo of your car and tell us why you decided on the new color and perhaps we'll put together a photo gallery of custom painted C7s.

Source:
Corvette Forum

Related:
[PICS] Corvette Stingray Gets a Matte Purple Metallic Wrap
[VIDEO] Forgiato Widebody Corvette Stingray Shines Bright in Shimmery Gold Wrap
Forgiato Widebody C7 Corvette Stingrays Now Available in Multiple Flavors