Great news for those Corvette enthusiasts who have the blues after it was announced earlier this year that Laguna Blue would be phased out of the Corvette exterior color palate in 2016. Blue is one of those colors that tends to wind up with in the middle of popular colors, so we didn't doubt for a moment that there would be a new Blue exterior for 2017 Corvettes back in the line-up.
But then the Corvette Team had a drop the mic moment when they debuted the new 2017 Corvette Grand Sport at Geneva early Tuesday morning. That reveal was followed up with the publishing of a special 2017 Grand Sport Corvette page on Chevrolet.com and that's where we come into the mix.
Our follow up post on Tuesday featured images pulled from Chevrolet's website of a Blue 2017 Corvette Grand Sport. Right away, we referred to the color as Admiral Blue as it only makes sense that the color would be offered 21 years after it first made its debut on the one-year-only 1996 Corvette Grand Sport. In fact, the C7 Corvette Grand Sport on that website wears a nearly identical paint scheme to that of the 1996 GS, down to the white stripe on the hood and red hash marks on each fender.
So of course we referred to the color as Admiral Blue and decided to stay with that name until we learned what the real name would be.
This morning the return of Admiral Blue on 2017 Corvettes was confirmed by Corvette Product Manager Harlan Charles who posted this on his facebook page this morning: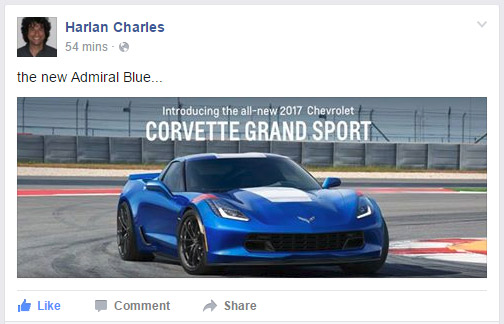 The current paint shop in Bowling Green has the capacity for ten exterior colors for Corvette production. Earlier this year, Chevrolet decided to build-out four of the ten colors offered on the Corvette, meaning once they finished with what they had, they would not be painting those colors anymore. Those four colors retired were Night Race Blue, Laguna Blue, Shark Gray and Daytona Sunrise Orange Metallic.
So now we have two new colors confirmed for 2017, Admiral Blue and Watkins Glen Gray Metallic, leaving two more to be confirmed if Chevy stays with that formula. As Chevrolet is offering the Watkins Glen Gray only on the 2017 Corvette Grand Sport Collector's Edition, it would not surprise us if they also offered an exclusive color to the Z06 model as well.

Source:
Harlan Charles/Facebook

Related:
Only 1,000 Corvette Grand Sport Collector Edition Models Will Be Offered
[VIDEO] Watch the Reveal of the 2017 Corvette Grand Sport from Geneva
CorvetteBlogger Prices the New 2017 Corvette Grand Sport at $69,795
Chevrolet's 2017 Corvette Grand Sport's Website Points to Future Offerings
Chevrolet Introduces the 2017 Corvette Grand Sport