You might say Rick Hendrick loves being No. 1.
At least when it comes to owning collector cars.
Hendrick, of course, is well known for buying the first production models of new generations of Corvettes and Camaros, but last week he took a turn toward the No. 1s of the past, buying a trio of VIN 001 Collection of Corvettes from 1955, 1956, and 1957 for a cool $1.65 million during the Barrett-Jackson Auction in Scottsdale, Ariz.
"These things have been kept in incredible condition," says former Hendrick driver and now FOX analyst Jeff Gordon, in Scottsdale with Hendrick. "These cars are truly a work of art."

Less than 24 hours earlier, Hendrick also shelled out $1.2 million for the first 2017 Acura NSX.
He also bought a 1969 Corvette convertible, though not VIN 001. It is one of just 116 built with the legendary L88 engine and brought $525,000 at the auction.
Hendrick loves vehicles, that much is evident, so it was no surprise that he also bought "Optimus Prime" for $110,000 at Barrett-Jackson. That's the 1979 custom Peterbilt truck used during the filming of the first "Transformers" flick.
"This thing can do donuts at 70 miles per hour," said producer Michael Bay, who was there to watch when the big truck crossed the block.
If you look closely in the next "Transformers" movie, by the way, you'll be able to see Hendrick briefly as the winning bidder for Optimus Prime also gets a walk-on role as part of the deal.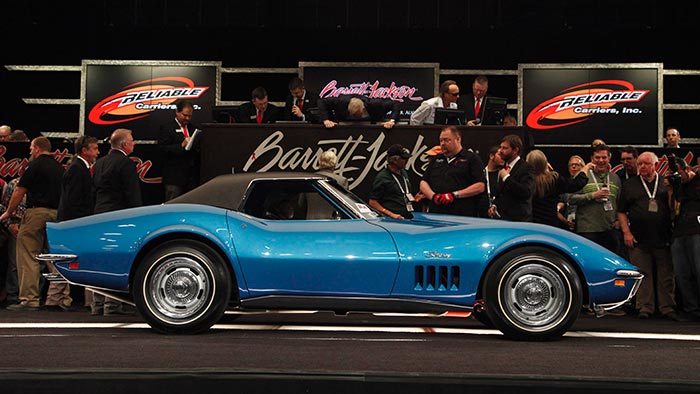 The latest purchases will join other cool cars in Hendrick's growing collection, including VIN No. 001 of the 2010 Camaro, 2011 Camaro convertible, 2014 Corvette, 2014 Corvette convertible, 2015 Corvette Z06 coupe, and 2015 Corvette Z06 convertible.

Source:
FoxSports.com

Related:
1969 L88 Corvette to be Offered at Barrett-Jackson's 2016 Scottsdale Auction
Barrett-Jackson to Feature an 'Eclectic Docket' of Corvettes at its Scottsdale Auction
Purple People Eater Corvette Racer Heading to Barrett-Jackson's Scottsdale Auction