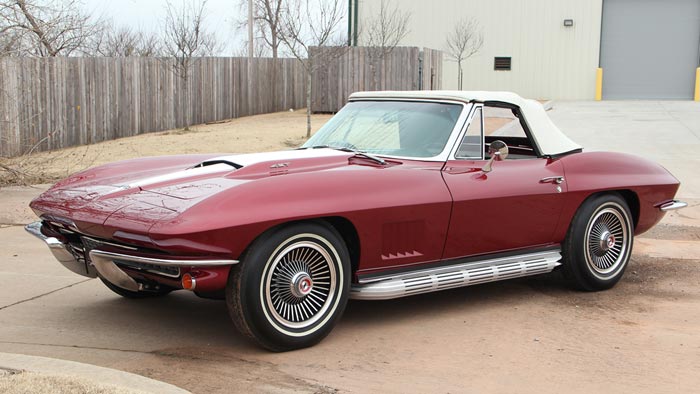 Leake auctions must be slapping themselves silly right now as it was recently discovered that a 1967 Corvette heading to auction turns out to have a very rare option – so rare that it's only 1 of 16 built with the L89 aluminum head option.
The newly-discovered L89 Corvette is among the 40 Corvettes and 100+ cars belonging to the Tom Falbo collection that will be auctioned at no reserve in Oklahoma City in February by Leake.
Included in Falbo's collection are 19 Corvettes from 1967, the final year of the C2 generation. Falbo apparently didn't know about the diamond he had in his collection until Leake brought in noted Corvette expert Roy Sinor, recently retired National Corvette Restorers Society (NCRS) Judging Chairman. After inspecting the car, Roy has confirmed the following about the L89:
1 of 16 L89's – as with the majority of these cars, there is no GM documentation
Power steering and brakes
Original GM issued trim tag with June 21, 1967 date
St. Louis convertible body S8917
Trim code 988AA – indicating Marlboro Maroon
Engine assembly code indicates T0512IU on the engine pad, which is the L89 designation for the engine. Assembled on May 12, 1967
VIN derivative on the engine pad is 7121397
3904351 – 4 bolt main engine block was cast on March 31, 1967
Machined and assembled in May and placed in a Corvette that was built in June

The Corvette in Falbo's collection has the tri-power 427 cubic inch V8 with 435 horsepower. The L89 option added aluminum heads and only 16 Corvettes were built with the option which added an additional $368.65 to the MSRP. Falbo's Corvette is a Marlboro Maroon Convertible with a white convertible top and white stinger stripe on the hood. The interior is done in white as well.
Why was the L89 option special? The L89 produced more power because of its larger exhaust valves and the aluminum heads shaved 75 pounds off the front end as compared with the cast iron-heads on the regular L71 (427/435 V8). The weight savings plus performance increase put the 1967 L89 Corvette in a league of its own.

"As one of the rarest Corvettes ever produced, this was an incredible discovery," stated Richard Sevenoaks, president of Leake Auction Company. "We have been scrutinizing all of the Corvettes from the Falbo Collection for over a month now, verifying the authenticity of each one. Obviously we were thrilled to discover this L89 coded engine. This is a Corvette you do not see every day on the auction block. It will be offered without reserve, giving everyone the opportunity to own a valuable piece of Corvette history."
So what's a 1967 L89 worth? We turned to the rival auction house of Mecum to view past auctions of 1967 L89 Corvettes. The most recent appearance at a Mecum auction was in Jan 2014 at Mecum Kissimmee where a NCRS Top Flight 1967 L89 Corvette was bidded to $425,000 but did not sell. Mecum has one entry of a 1967 L89 sale which took place in May 2011 in Indianapolis where a 1967 Corvette sold for $117,000. That price seems low to us.
Falbo collected cars for decades and has accumulated some of the rarest and most desirable Corvettes ever produced. Many of the 40 Corvettes in the collection are documented, numbers matching and low miles.

The L89 Corvette and its stablemates will be auctioned at no reserve on Saturday, February 20th in Oklahoma City. For more details about the auction, visit www.leake.com.

Source:
Leake Auctions

Related:
Leake to Auction Tom Falbo's Collection of Corvettes in February
[VIDEO] Corvette Museum Heritage Series Features the Don Messner Collection
Over 240 Corvettes Available This Week at Mecum's 2016 Kissimmee Auction