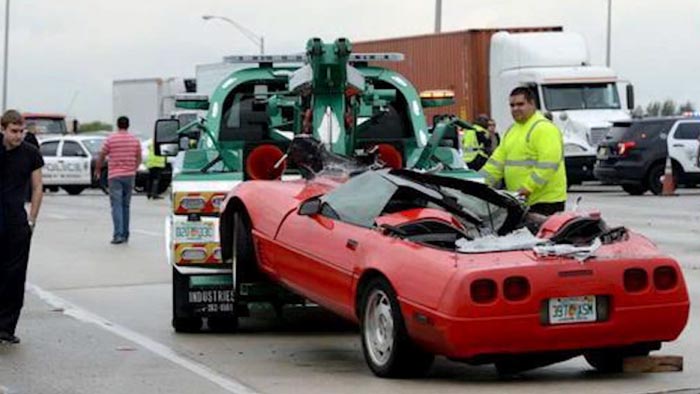 A red C4 Corvette coupe now looks like a convertible after crashing into a truck Tuesday afternoon in Boca Raton, Fla.
The driver of the Corvette, Wordie Whidden, told a reporter for the Sun Sentinel that he was taking a woman to the airport when his car hydroplaned, spun out of control, and became pinned underneath a truck on I-95, causing the southbound lanes of the interstate off Yamato Road to close for an hour.
The passenger in the Corvette was flown by a Trauma Hawk helicopter to a hospital, where she was listed in serious condition, according to Florida Highway Patrol spokesman Sgt. Mark Wysocky.
The interstate reopened around 1 p.m. Tuesday, police said.

Source:
sun-sentinel.com

Related:
[ACCIDENT] C4 Corvette Owner Survives Crash with DUI Driver That Should Have Killed Him
[ACCIDENT] 1979 Corvette Catches Fire and Burns UK Basketball Tickets
[ACCIDENT] Man Owns His Dream Corvette for One Hour Before Being Smashed by SUV