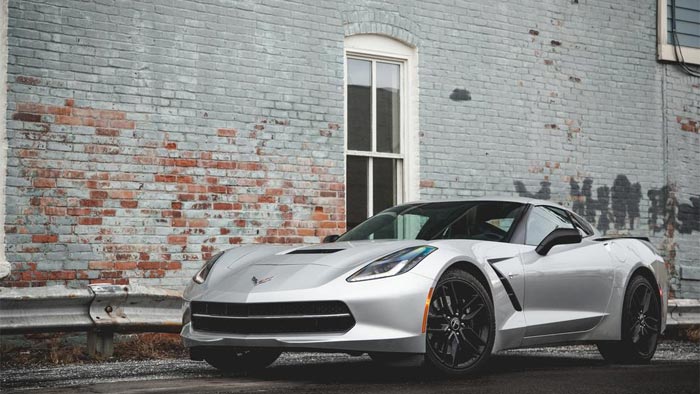 Photo Credit:
Car and Driver

Maybe Car and Driver should have headlined its long-term wrap of the 2014 Stingray "Beauty and the Beast" or maybe "I love to hate you."
Based on what we've seen on various forums, with many owners bragging about how great their experience has been with their first-year C7, it seems as though Car and Driver was just unlucky enough to get the exception, rather than the rule.
The magazine reports in its current issue that it had all kinds of problems with its Blade Silver Corvette, not the least of which was the blown engine with just 6,000 miles on the odometer. While that shouldn't have happened, we wonder how well they treated the car.
Also requiring attention at various points were the eight-inch center touch screen, a cracked windshield, two punctured rear tires, the heat/air computer, seats that didn't warm up enough to suit them, excessive tire noise, and leaking axle seals. They also whined that it took up to 12 seconds to crank … in sub-zero temperatures.
Maybe they should just think about moving south since the problems seemed to clear up with the return of warmer weather – we have plenty of room in Georgia and Florida for more C7 Corvettes. We also think they might want to go a little easier on those burnouts since they claim the rear tires had to be replaced at 13,000 miles because of a puncture. Yeah, right, probably because the tread was worn bare from too many quick starts.
Despite all their problems with the Stingray, though, we're overjoyed to say that overall they loved the car.
"The latest Corvette is an amazing performance bargain, and it still pained us to hand back the keys," they wrote in the recap.
Writer Don Sherman even gave the Stingray his vote for "America's best car," calling it "a highly engaging commuter" and "a ride I'd actually stoop to buying."
Fellow staffer Jennifer Harrington agreed, calling it "such a sweetheart" and pointing out that the fuel economy "still amazes me."
Perhaps writer Jared Gall summed it up best for the magazine when he said: "I absolutely love this car, but I would never recommend anyone buy one. The only safe course of action is to convince GM to loan you one until it breaks."
We're inclined to believe that Car and Driver just happened to get "one of "those cars" that makes people believe the warning never to buy the first year of a model change, for they write: "We've experienced little if any trouble with the later Stingrays we've driven and want to think of our test car as a first-year anomaly."
We wish they would get a 2016 model and give it another try.

Source:
Car and Driver

Related:
2014 Corvette Stingray Beats Arctic Blast of Old Man Winter
2015 Corvette Z06 Dominates at Car and Driver's Lightning Lap
Car and Driver Names the Corvette Stingray to its 2015 10Best Cars List