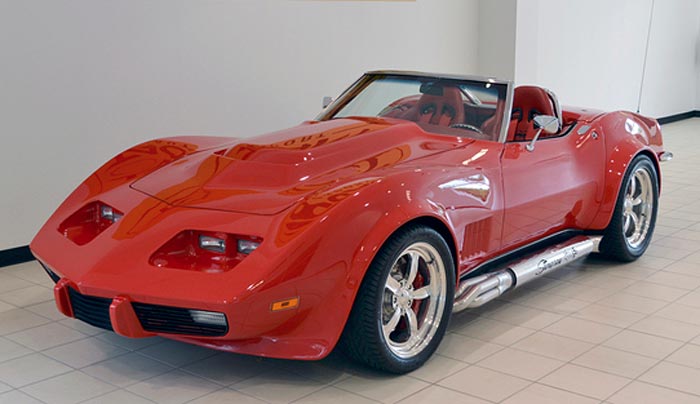 Back in October 2009, we told you about a custom 1968 Corvette on our Barrett-Jackson Las Vegas Results post.
Then we showed you a photo of the new owner cruising Santa Monica Boulevard in Beverly Hills. Turned out to be the legendary Sylvester Stallone, who proved to be the high bidder via telephone, shelling out a whopping $198,000 back then for the 510/660 hp roadster.
It's definitely one beautiful automobile, we'll grant you that, with its slick bright red custom exterior (including exposed headlights and sidepipes) and impressive custom interior that features digital Autometer gauges, Corbeau seats, Flaming River tilt steering wheel, and custom roll bar.
"Rocky" sold the car in 2011 to the current owner (for an undisclosed price), and now the new owner has put it up for sale at Taggart AutoSport in Cary, N.C., at the discount price of $129,900. Still a lot of money, but had he waited just a few years, Sly could have bought this amazing classic PLUS a new 2015 Stingray to boot.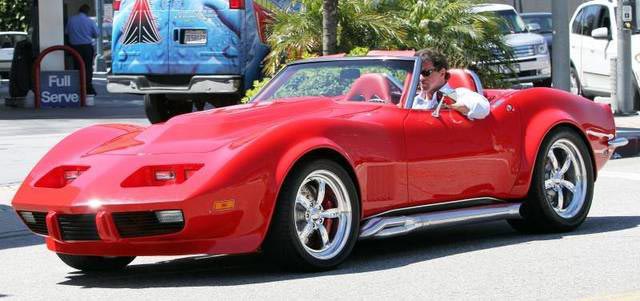 While some might argue that the car is still overpriced, the "star factor" of being associated with "Rocky" could be worth a few bucks for some folks, plus it's not likely you could replace it for that if you had to start over.
The powertrain itself would probably set you back some $30,000, with the Donovan aluminum big block, Brodix Pro Stock Heads, Arizona Speed and Marine fuel injection, Electromotive TEC3 ignition and ECU, Keisler clutch, and Lakewood Bellhouse and Hayes flywheel, and custom radiator and gas tank.
The Corvette features a Car Creations five-link coilover suspension and race-braced frame, five-speed transmission, Baer six-piston calipers, and ABS, along with power steering and brakes, CD player, and vintage air conditioning.
Best of all, the car has only covered 1,000 miles since the build so it's still practically new.
And, as an added bonus, the new owner will receive an autographed photo of Stallone driving the car as well as the previous title signed by the legendary actor.
"Yo, Adrian, let's go ride in the Vette! You know what I mean?"

Source:
Taggart Autosport via Corvette Forum

Related:
Stallone Cruising in a '68 Corvette Purchased at Barrett-Jackson
[PIC] 90210 and Sharknado Star Ian Ziering Drives a Black Corvette Stingray
Comedian Jeff Dunham Drives the Corvette Stingray at Spring Mountain Motor Resort