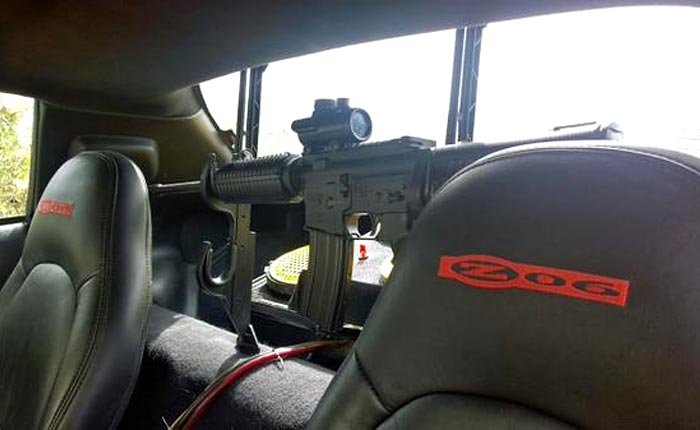 Ah Texas. Where everything is done a bit bigger and bolder than anywhere else in our country also extends to how Corvette owners exercise their 2nd Amendment rights. Normally, gun racks and rifles are associated with pickup trucks but what do you do when your daily driver is C5 Corvette Z06? Simple. You take your firepower with you!
We got these pictures from our of our Twitter followers showing a couple of photos of a Yellow C5 Corvette Z06 with a gun rack mounted in the back. We think the Fixed Roof Coupe body style makes the mounting of the gun rack a little easier and of course, you never know when you'll need to arm yourself so you want easy access to your assault rifle.
The rack featured in the Z06 extends down from the top of the rear glass down to the partition behind the seats. There are positions for two rifles but I guess our Corvette driver here was driving solo as there is only the one AR-15 rifle mounted:

We know a lot of new C7 Corvette owners simply went gaga when Chevrolet showed off the hidden storage compartment behind the stereo and we've seen more than a few pics showing a carry handgun in the hidden cubby. Do you have a creative way to carry and store your firearms in your Corvette? If so, let us know!

Source:
DrRugBurn on Twitter

Related:
[VIDEO] North Texas Viper Club Blows Up a C4 Corvette with Tannerite and a .50 Caliber Machine Gun
[VIDEO] Filmmaker Michael Brown Shows Off His Texas Corvette Collection
[VIDEO] C4 Corvette Runs the Texas Mile at 211 MPH