For the 63rd time, gearheads assembled in Detroit for the annual automotive spectacle known as Autorama. Like the groundhog that doesn't see its shadow, Autorama signals that spring time and the car show and cruising seasons are right around the corner. Thousands of cars – customized, restored, and factory originals alike – invade Cobo Hall each year in hopes of taking home one of the many awards.
Hot Rods being shown to the public for the first time battle it out for selection into the Great 8 with hopes of taking home the prestigious Ridler Award. Once again super customizer Chip Foose took home Ridler the trophy (his 4th) with a wild, yet subtle, 1965 Impala featuring various bits sourced from a C6 Corvette.
Entrants in the show range from 100 point, factory-correct fully-restored show cars to all out ultra-high-end customs built by Trepanier, Coddington, Ladd, and all the other top names in the business. The 2015 edition also featured a Significant Corvettes of the Past display which we'll show you a little later this week. This display was full cars massaged by Motion, Lingenfelter, Greenwood, and even General Motors themselves.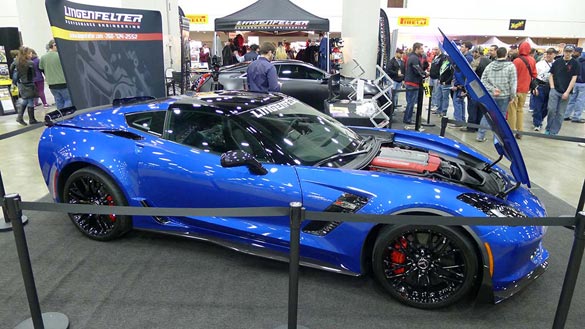 In addition to all of the show cars, hundreds of vendors peddle their latest wares ranging from 4 post lifts to complete restoration services. The Toy-A-Rama section contained thousands of die-casts, models and various toys for children of all ages. Downstairs in the Cobo Hall basement old school customs and rat rods filled the space wall to wall while a rockabilly band rocked out in the stage. Even renowned builder Gene Winfield had a shop setup up and worked on a car all weekend.
Some of our favorite Corvettes this year included a stunning blue 1957 which we'll show you later this week, an over the top gray 1967 coupe, and a green Motion Performance prepped 1969 coupe.
If you're ever in Detroit in early March (we know you won't be here for the weather), make plans to get to Autorama. You won't be disappointed. Below you can enjoy some photos of the Corvettes from the 2015 Detroit Autorama.

Related:
[PICS] The 1957 Hot Rod Magazine Project Corvette Reborn
[PICS] Corvettes and More at the 2014 Detroit Autorama
[PICS] Cimtex Rods' Sixty-Two Twelve Custom Corvette