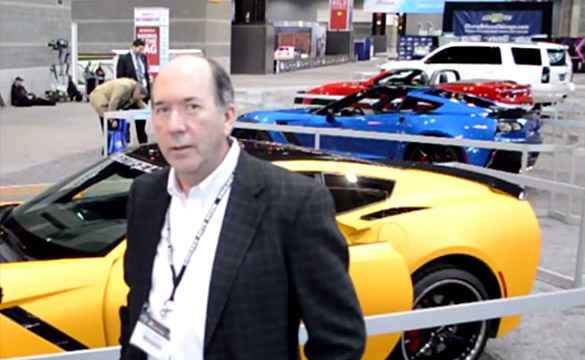 Ken Lingenfelter says he doesn't have any inside information about a possible mid-engine C8 in the Corvette's future.
But you can bet that if General Motors winds up making the long-awaited dream car, he and his Lingenfelter Performance Engineering buddies will be first in line to buy one or two and work their special magic on them.
"We've all been hearing (the mid-engine rumors) for years, and I gotta believe there's something going on, especially now since there's a Ford GT," Ken says. "I tell you what, General Motors has got a lot of things screwed down pretty tight with regard (to the C8), and we don't have any inside information about anything. Back in the day, we could. But I hope they build it. I'm trusting they will, and you can bet it's gonna be part of our collection and we'll have a couple of 'em to play with."
Standing in front of a matte gold Corvette Stingray and a blue Z06, Ken made those comments during a wide-ranging interview with BOLDRIDE this week at the Chicago Auto Show that runs through Feb. 22.
He says Lingenfelter bought a couple of LT1-powered Silverados early on and used them to get a lot of the engineering out of the way that was necessary for the upgrades to the C7 once it arrived.
"Obviously there were some things that are different for the Corvette, and we got those handled pretty quickly," Lingenfelter said. "We built this car – it used to be black – and we took it on the Hot Rod Power Tour to put a bunch of miles on it and had tremendous success with it. Makes a whole bunch of power – it's a lot of fun to drive, gives it just the extra kick that maybe it needed." He said they didn't touch the factory suspension, finding that Tadge Juechter and crew got it just right to start with.
"As a race car driver, you like to turn off a lot of the controls," Lingenfelter said. "This one's so good, you really don't want to turn anything off. It's very good – very, very good. They did their homework."
The new Z06 is even better, but Lingenfelter says his company will still offer upgrades to this supercar in the coming months.
He was standing in front of a blue Z06 that he described as a mule car for his company. "Believe it or not, a week ago it was all in pieces before we got it out here to the show," he said.
Lingenfelter says his company will do whatever a customer wants.
"Our customers have got different needs," he pointed out. "Some of 'em want to race, some of 'em want to drag race, some of 'em want to go to car shows, open the hood, and beat on their chest. So we want to be there for everybody, and we try to get that done."
Along those lines, Lingenfelter plans standard packages for the Z06 that will offer different horsepower levels. "I'm sure there will be customers that want 800 horsepower, and others want 900 and even more."
Lingenfelter says the thing that impresses him about the factory Z06 is that "it is just drop dead gorgeous. It's a work of art, and in addition to that, the price is really – the bang for the buck is huge just like it's always been with Corvette."
He loves the blue Z06 so much that he's buying one of his own, Arctic White with red interior, that he plans to upgrade once all the Lingenfelter packages have been figured out "and I'll go have some fun with that car!"
Lingenfelter comes honest by his passion for cars, and Corvettes in particular, recalling that his parents have told him he would ride on the hump of their '55 Chevy as a toddler.
"The car that really hooked me was the '63 split window coupe," he said. "I was 10 years old, and it's an amazing car."
In fact, he recently went on a search to find the "absolute best" split window he could find, and it's one of the prize possessions in his collection now.
"It was $125,000 to buy, and I actually went in and redid it to make it even better," Lingenfelter said. "Probably not a good idea to talk about how much money I spent … some people know how passionate I am about this stuff, but some of 'em think I need psychiatric help."
He's used that collection of classic muscle cars, exotics, and Corvettes to help with charity fundraisers and notes that they just added a LaFerrari to the mix.
"I've sat in it, but up in Michigan, I think we've got a couple of months before I can get it on the road," he said with a smile. "I've read a lot about it. It's an amazing looking car, and it will attract a lot of friends coming to take a look."

Source:
BoldRide.com

Related:
[VIDEO] 1985 C4 Corvette Kart vs a 2014 Lingenfelter C7 on Motor Trend's Roadkill
Lingenfelter Announces Performance Packages for the 2014 Corvette Stingray
[VIDEO] Lingenfelter Dynos the 2014 Corvette Stingray