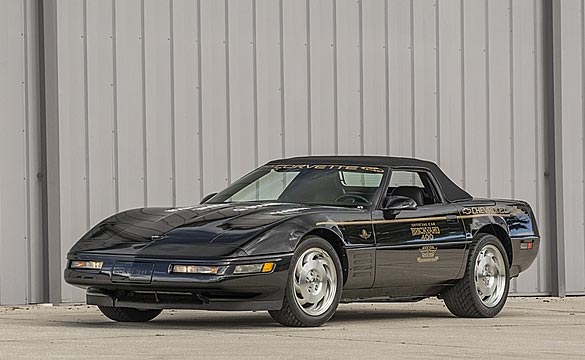 If you're a big NASCAR and Corvette fan, and would like to own a bit of drivable history from the inaugural 1994 Brickyard 400, grab your checkbook and head for Kissimmee, Florida. One of the 25 Corvette convertible track and festival cars will be up for auction at Mecum's Kissimmee Auction at the Osceola Heritage Park in (where else?) Kissimmee, Fla. this January 16 -24.
Official Track Vehicle
Chevrolet supplied 137 support vehicles to the Indianapolis Motor Speedway (IMS) for the inaugural running of the Brickyard 400 on August 6, 1994. The support vehicles included Monte Carlo pace cars and 25 new Corvette convertibles to be used as parade and festival cars. Each Corvette was assigned to take two drivers around the track during the driver introductions – our featured car drove Geoff Bodine and eventual winner Jeff Gordon.
This Official Brickyard Corvette Convertible has about 9,000 miles on the odometer and is one of the 12 black cars with black interior and black soft top—the other 13 were red with red interiors. It comes with:
350/300 hp engine
Automatic transmission
Dual power seats
Electronic A/C
Bose CD/Cassette player
FX3 Selective ride and handling
Low Tire Pressure Warning system
Extended mobility tires
Inaugural Brickyard 400 decals
Documentation including GM letter of authenticity, copy of the original factory window sticker, photo of drivers riding in the Corvette at Indy, and Jeff Gordon's autograph on the steering wheel
It also has other features standard on all '94 Corvettes, such as a passenger side airbag, redesigned steering wheel, leather seats, and glass rear window with rear defroster.
First Brickyard 400
The inaugural Brickyard 400 was a major event in 1994's racing world. Not only was it the first race at IMS other the Indy 500, since the Harvest Classic in 1916, it offered a then-record NASCAR purse of $3.2 million. It attracted virtually every current and past NASCAR driver who could still push on an accelerator. Eighty-five cars attempted to qualify for 43 starting positions. Rick Mast grabbed the pole with Dale Earnhardt and Jeff Gordon starting in second and third positions.
Jeff Gordon took the checkered flag for his second career NASCAR victory. Race day attracted what was then the largest crowd in NASCAR history. How important was this race? Recently, when asked about his greatest wins, Jeff Gordon said, "You know, I've had a lot of great memories and great wins over the years but if I had to pick one it would definitely be the inaugural Brickyard 400."
This rare 1994 Corvette Brickyard 400 track car will cross the block as Lot S124 on Saturday, January 24. Mecum's auction will be covered live on NBCSN on January 22 through January 24. For TV broadcast and auction details, please check Mecum's website. Seldom do the worlds of Corvette and NASCAR intersect as they do here—this is a unique opportunity to own a piece of both worlds.

Source:
Mecum and RareVettes.com

Related:
Throwback Thursday: 1978 Corvette Paces the Indy 500
1955 Corvette VIN 002 with Oldest Production V8 to be Offered at Mecum Kissimmee
Unique 1965 Corvette Big Tank Coupe to Cross the Block at Mecum's Kissimmee Auction