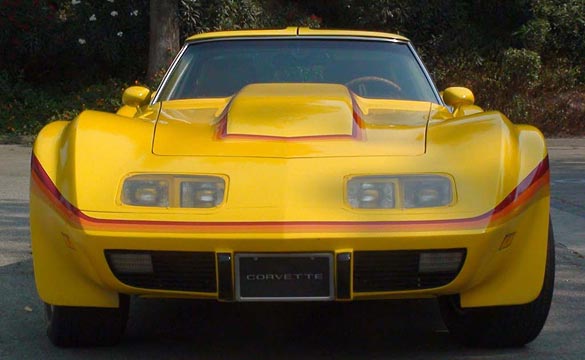 Back in the 1970's John Greenwood teamed up with Eckler's Corvette parts to produce a run of wide body Corvettes. The entire kit could be purchased through the Eckler's mail order catalog. Owners could choose several options including different width fenders, unique rear clips in addition to Sportwagon, Panelwagon, and hatch back rear end treatments. If you failed to order one these of kits back in the day, you've another chance at it with this Eckler's Can-Am wide body we stumbled across on eBay.
This particular wide body was assembled by Eckler's in 1978 using a 1975 L48 automatic Corvette as a base. The car was then unveiled at the 1978 Detroit Autorama and is believed to also have been at the Cleveland Autorama. The yellow wide body has been on the cover of Eckler's 1978 catalog as well the 1979 Hot Rod Magazine Chevrolet Special issue. It showed up in Hot Rod again in December 2008. It's also graced the July 2009 cover of Corvette Enthusiast and was featured in the September 2012 Corvette Magazine.
What really makes this specific Can-Am unique is that it's the first one built by Eckler's. Serial #C0101 is the first of roughly 15 CR-II Can Am's first built. According to the listing, the car was originally ordered by Robert E. Petersen of Petersen Publishing. From there it lived with John Siroonian the founder of Western Wheels and Western Chrome. It's been with the current owner about the last 20 years.
This modified C3 wears red, orange, and yellow stripes on the bright yellow body. Additional options include the triple tail lights, moon roof T tops, covered recessed headlights, hatchback rear window, and a Monza-style fuel filler. Other external bits include side exhaust, sport mirrors and Western turbine-style wheels. The listing states that the car is largely unrestored and in original condition. The drive train is still the matching numbers L48 engine and TH400 transmission. Saint Louis installed options include A/C, power windows and locks, remote mirrors, tilt/telescopic wheel, deluxe interior, AM/FM radio, Recaro seats. The odometer shows roughly 31,000 original miles.
Like all unique Corvettes documentation is very important and this one checks in with a stack of paperwork. Items included in the sale include ownership and car authenticity provided by Eckler's and John Siroonian, an appraisal from Coast Corvette, in additional to various media articles, awards, and photos.
The Buy It Now price for this very 1970's package is $34,900 which is a hefty premium over a regular 1975 L48 auto coupe. Cars like this are basically impossible to shop. How often are you going to come across another one let alone THE first one? Is this car worth $35k? We have no idea so we'll just sit back and let the bidders decide its value. The listing runs out September 26th at 10:15:07 PDT.

Source:
eBay.com

Related:
Ralph Eckler Offering Signature Corvette Restomods
Friday's Featured Corvette for Sale: 1975 Corvette Greenwood SportWagon
1974 Motion Can Am Spyder Prototype Heading to Mecum Indy