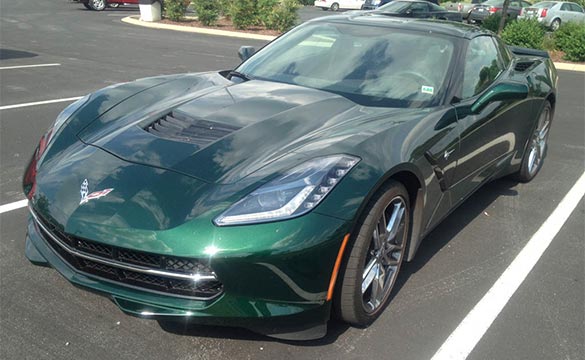 Those of us who were around for the dog-eat-dog days of the 1978 Corvette Indy Pace Car know first-hand how greedy some dealers can be when a hot car comes their way.
Automotive News is reporting this week that some Chevy dealers are asking as much as $10,000 to $20,000 above sticker price for the soon-to-be-here 2014 Corvette Stingray.
Fortunately, not every dealer is gouging its customers.
Take Coughlin Chevrolet in Pataskala, Ohio, for example. Our friend Rick "Corvette" Conti is sales manager there and says Coughlin is charging MSRP for all Stingrays. They already have almost 100 orders for 2014 models and Rick figures to sell 75 more Stingrays before production ends for the year.
"Guys who go above sticker — that's a one-shot deal," Conti says. "These are customers who you're going to see again, and they'll remember that. I'm looking at the bigger picture."
Three more of our friends are also offering fair deals on the sure-to-be-red-hot Stingrays. If you are planning to order a 2014 Corvette Stingray, please check out Kerbeck Corvette, Mike Furman at Criswell Corvette and Sport Chevrolet. These three dealers not only support CorvetteBlogger.com as sponsors, but they are also supporting Corvette owners by selling Corvettes at MSRP.
With supplies of the Stingray expected to be tight during the first year of production, you can expect to see more of the old "supply and demand" challenges that force prices up in some cases.
It's interesting to read what one Chevy dealer out West told Automotive News. That dealer has sent mystery shoppers to its competitors and discovered that they plan to offer the cars $10,000 to $20,000 over sticker. That dealer has decided to make its markup just half of what those competitors are asking.
"If the competition is charging $15,000 above," the manager says, "we'll charge $7,500."
Still doesn't sound fair and its telling that he didn't want his dealership to be identified.
We asked Corvette's Marketing Manager John Fitzpatrick about dealers who are charging thousands more over MSRP and he told us there is only one group who can stop this practice in its tracks – the customer. He says that Chevrolet doesn't control what dealers will ultimately charge for the new Stingray, but his message is clear. If you're not willing to pay for a Market Adjusted Corvette, dealers won't charge the premium price above MSRP.
We think your best bet is to check with the four Corvette-owner friendly dealers mentioned above, and you might be able to save thousands of dollars on your Stingray.

Source:
Automotive News

Related:
CorvetteBlogger Welcomes Sport Chevrolet to Our Family of Sponsors
Chevrolet's John Fitzpatrick Details the Production Process for the 2014 Corvette Stingray
Mike Furman – Selling Corvettes for 35 Years and Still Going Strong