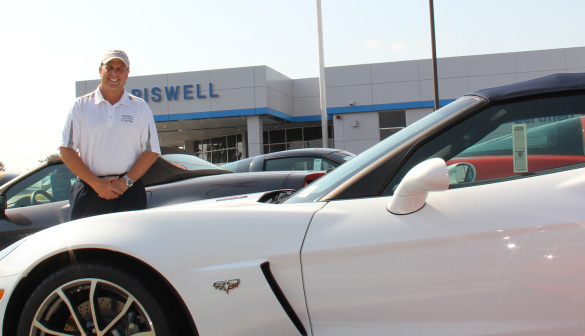 Mike Furman is one lucky guy.
Many kids at the age of 17 have no idea what they want to do with their lives. But Mike knew what he was going to do.
On July 26, 1978 he sold his first Corvette. A mere 420 months or 12,775 days have gone by since then and now he's one of the top Corvette sellers in the Country. By the end of the year, Mike will have completed his 3,000th Corvette sale!
Mike says a lot has changed in those 35 years.
"A guy named Bill Gates said 'in the future every home will have a computer' he said in a post on the Corvette Forum. "We all laughed at that one. Fax machines weren't even invented as we know them yet!" he adds.
Mike says that over those 35 years, he has seen the good, the bad and the ugly. But he isn't talking about the Corvettes he has sold. "I have never seen an ugly Corvette. I have loved them all including the 13 Corvettes and 44 Musclecars that I have owned" he said.
Mike says the process of delivering Corvettes to customers is more than just signing the paperwook and handing over the keys.
"Even though I am delivering the Corvettes to my customers…I thoroughly enjoy the whole process and as I have always said, being a Corvette enthusiast myself…it allows me to develop friendships with customers that go beyond Corvette. Does it get any better then that? I don't think so."
Mike reflects on some of the history he has witnessed over the years:
"I was there in the beginning when Callaway Cars first started creating more Horsepower for Corvettes (1987) and I watched the Callaway "Sledgehammer" get delivered after setting a World Record. Even Zora Arkus Duntov and Larry Shinoda among other luminaries would come to our dealership for our annual Corvette show at the Malcolm Konner Auto Group."
Beginning his 35th of Corvette sales, Mike is very excited about the 2014 Corvette Stingray.
"The 7th Generation Corvette is World Class in every imaginable way." said Furman. "In August I will be under the Callaway tent (right next to the GM Tent) for two days (Friday and Saturday) at Corvettes at Carlisle…and then I get to test drive the Stingray for a few days at Spring Mountain in September (with Chevrolet) and October (with Callaway). Tough job but someone has to do it!" he says.
Mike's knowledge of Corvettes and his professionalism in selling them over the years has cultivated quite a following. Mike recounts stories of how Corvette enthusiasts from all over the world just drop in to the dealership to say hello.
And here is how one forum member answered another member's question about how Mike has gained so much acclaim by fellow Corvette owners:
How is it? Goes like this: every business, every profession, has its stars. And stars are not born—they make themselves that way. Nor do they tell you how great they are. They listen, learn, let customers come to their decisions (even if it takes years, people remember how they were first treated, and they do go back to where someone took the time with them). And finally, they let others do the talking.

All that Mike states are the facts that he can talk about – his enjoyment of selling these cars, and his length of time in the biz. Frankly, that's not much different than the best in any biz including the sale of cars.

What I'm most impressed with is, I haven't seen one post that said, "he pressured me." Or, "he said this was a one time deal only good for one hour." Quite the opposite is said: "It was an enjoyable experience," "It went so quickly and smoothly," "I learned everything I needed to know." Comments like that only get said about the best and we've been lucky to hear/read it on this Forum.

In every line of business I've been in, I can name two or three people who are the stars, the best for all the right reasons. I'd bet all of us can. Mike happens to be one of those in his line of work. And that's why he's talked about by others."
Accolades like this don't come with every Corvette sales professional. If would like to talk to Mike Furman about your next Corvette, call him direct at (301) 212-4420 or by email at [email protected]. His website is http://criswellcorvette.com/Mike_Furman.aspx.
Here are some pictures of Mike with some of the Corvettes he has been around over the years. Click the image to view a larger version.
Fall '92-That's my son Tyler and I in my 1961 Corvette. Tyler is 21 now!

Sept 11th 2004-My daughter Samantha and I in my new 2005 Precision Red Corvette. She is in College now.

Taking the 61 down the highway.

Dave Hill and I with the all new 2006 Z06 behind us.

1986 outside Malcolm Konner Chevrolet helping out the Konner Family for a sock hop.

With the Corvette Racing team at the 24 Hours of Le Mans

60th Anniversary 427 Corvette Convertibles arrive at Criswell Corvette

And of course, Mike is selling C7 Corvettes!


Source:
Corvette Forum and Criswell Corvette

Related:
Questions about Ordering a 2014 Corvette Stingray? Contact National Corvette Seller Mike Furman
Here is the Last Available 2012 Callaway B2K 25th Anniversary Corvette
Top Gun Air Force Pilot Buys a 2013 Corvette 427 Convertible