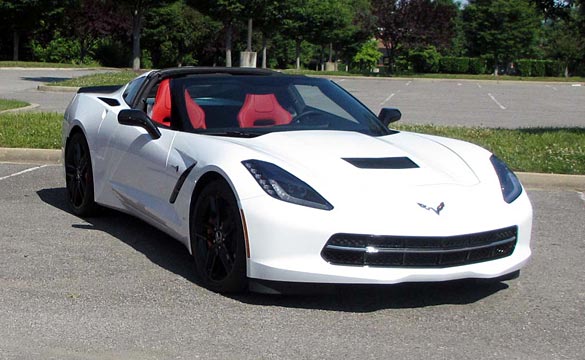 Since the new Corvette Stingrays have hit the streets, we've actively been searching the 'net looking for examples of each of the 10 colors available. But since the C7's introduction in January, one color has alluded us until now – Arctic White.
Last weekend, one of the engineers from the Bowling Green Assembly Plant made the one hour drive down I65 in an Arctic White 2014 Corvette Stingray Coupe to the Cars and Coffee gathering in Nashville and we're very excited to share these photos with you.
The pictures come courtesy of Curt Curtiss who runs a website called carsandcoffeefinder.com. Curt is a Corvette owner too and had his Red/White 1960 Corvette out for the gathering.
One of the reasons that we've been dying to see the new Corvette Stingray in Arctic White is because of the contrast with all the black trim on the car. The Corvette Stingray at the Cars and Coffee event in Nashville is a Z51 model and the White exterior looks really good in our humble opinion, especially with the Black 19/20″ wheels. Plus, the Corvette is equipped with the TTV option which adds the Carbon Flash (black) exterior mirrors and the full length Carbon Flash spoiler.
Unfortunately, there aren't any photos that show the interior, but we can see that it comes with the Adrenaline Red GT bucket seats which we think also goes very well with the Arctic White and Black-trimmed Corvette.
Thanks again Curt for allowing us the share what we believe are the first pictures of the Arctic White 2014 Corvette Stingray. If you want to get out for a fun weekend morning with fellow automotive enthusiasts, check out his website again at carsandcoffeefinder.com.

Source:
Cars and Coffee

Related:
[PICS] Chevrolet Shows Off New Stinger Hood Treatment on the 2014 Corvette Stingray
First Lime Rock Green 2014 Corvette Stingray Makes Appearance at the Lone Star Classic
Five 2014 Corvette Stingrays at the Bowling Green Assembly Plant