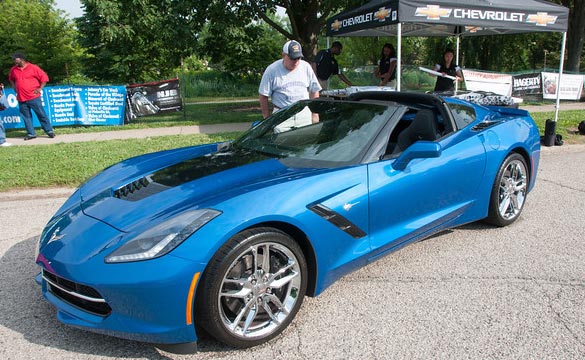 During the NCM Bash, it was discussed that racing stripes would be an option available for the 2014 Corvette Stingray with the stripes coming in two flavors, full length and a stinger hood treatment.
We've already seen the full body length racing stripes on this Yellow/Silver C7 prototype back in February. And last weekend, Chevy showed off the "stinger" hood graphic on a Laguna Blue 2014 Stingray.
The stinger hood is a reference to the original Sting Rays and specifically the 1967 model featuring 427s. That year, the 427 engines needed additional hood clearance and cooling, so a special hood was created. It was usually painted a contrasting color and today its one of the iconic characteristics of the final midyear big blocks.
On the 2014 Corvette Stingray, the stinger is the area from the air extraction vent on the hood to the top of the hood. In this example, the graphic really flows with the carbon flash hood vent and for those looking for a little more contrast with the exterior color, this could just be the ticket.
These pictures come courtesy of "MMartin" who posted them on the Corvette Forum. The C7 Corvette was on display at the Ault Park Concours d'Elegance in Cincinnati last weekend.
This Corvette looks to be a base 1LT packaged Stingray equipped with the Z51 package. The 19/20 inch chrome wheels give the Corvette some awesome curb appeal. But take note of the basic plain Jane interior! It might be worth upgrading to the Carbon Fiber Interior Trim and Instrument Panel (RPO FAY) for the additional $995.
Here's the Laguna Blue 2014 Corvette Stingray featuring the black stinger hood graphic:
As of yet, there is no pricing for either the full length body stripe or the stinger hood graphic. Both are expected to be available as part of the Corvette Genuine Accessories catalog that can be ordered through your Chevrolet dealership.

Source:
MMartin @ Corvette Forum

Related:
SPIED: 2014 Corvette Stingray with Full Body Racing Stripes
[VIDEO] The C7 Corvette Stingray Exterior Design Seminar at the 2013 NCM Bash
[VIDEO] The 2014 Corvette Stingray Seminar from the NCM Bash