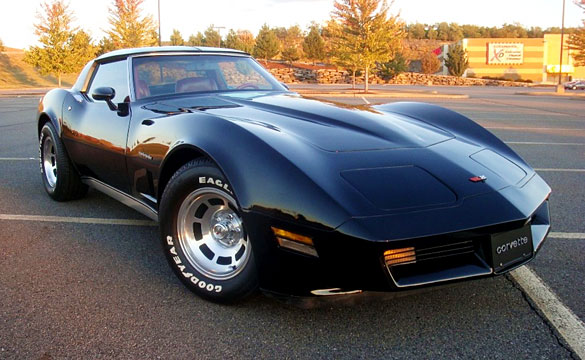 Image Courtesy of
CorvetteImages.com
I was talking to a friend the other day about the impending end of the C6 Corvette. We theorized where that last 2013 Corvette would turn up. What auction it may show up at, whose collection it could end up in, and what it options it would have. Coincidentally a new thread popped up on Corvette Forum last month inquiring as to the location of the last C3 Corvette. As it turns out, that's the only "last" Corvette we can't account for. We know where the last C1, C2, C4, and C5's are, but where is 1982 Corvette VIN 25407?
The third generation of Corvettes was produced between 1968 and 1982. In that time a total of 542,861 Corvettes left the St. Louis and Bowling Green assembly plants. The final year of C3 production ran long due to delays in the new C4 program and ultimately ended in early 1983. The 1982 model year was relatively uneventful outside of the special Collector Edition model which was the first Corvette with a price tag north of $20,000. All cars were powered by the new Crossfire fuel injected motor which was backed to a 4-speed automatic transmission. Road and Track tested a 1982 Corvette in November of that year and produced a lackluster 0-60 sprint of 7.9 seconds and 0.826g on the skid pad. ¼ mile time was 16.1s @ 84.5mph. Compare those figures to a modern C6!
As each Corvette iteration ends, the focus tends to fall on the last car of that particular run. We did some digging and it turns out that we know where all of the other "last" Corvettes are except the last C3 Corvette. Where is 1982 Corvette VIN 25407?
With that in mind, here's where the other "last" Corvettes ended up:
The Last C1: According to the C1 Registry, 1962 Corvette VIN 14531 currently lives in Washington where it's been with its current owner since 1965.
The Last C2: 1967 Corvette VIN 22940 is possibly the most publicized Corvette of all time thanks to ProTeam Corvette. It was the subject of an extensive restoration and TV series on SPEED and then sold at Barrett-Jackson in 2007 for $660,000 including commissions to an Arizona Collector.
The Last C4: The final 4th generation Corvette lives in Mid America Motorworks' My Garage collection where it has been since new. Mike Yager lobbied GM to sell him the white C4 which was built on June 21st, 1996.
The Last C5: The final C5 wears VIN 34064 and spent most of its life in the Bob McDorman collection until late 2010 when it sold for $45,100 including commissions. It currently has 13 miles on the odometer. You've got another chance to score this ride at Mecum's Kissimmee auction coming up next month in Florida.
We assume that the last C6 has already been spoken for and will show up at the National Corvette Museum, one of the major auctions houses, or in a collection belonging to some savvy collector.
That just leaves the last C3? Know where it's at? Let us know in the comments below or send us an email at [email protected].

Source:
Corvette Forum

Related:
Barrett-Jackson: The Last Sting Ray Fetches $660,000
[VIDEO] Harlan Charles Takes a Look at the Milestones of the C3 Generation
[VIDEO] Today in Corvette History: Final C4 Corvette is Built