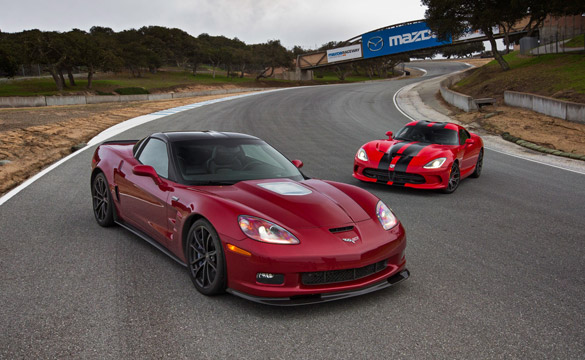 As the C6 Corvette rolls off into the sunset, don't send it to the nursing home, just yet.
For example, the last of the breed, a 2013 ZR1, just ran the lowest time ever at Laguna Seca, a 1:33.70 to snap the old mark of 1:33.99 established three years in a 2010 Dodge Viper ACR.
The performance came after Motor Trend recently decided to see what the ZR1 would do up against the newly redesigned and updated SRT Viper on the track. Despite the "new and improved" status of the Viper, the Corvette still wound up taking top honors.
Now, we wonder what the highly anticipated C7 will do when it finally gets to shed its camouflage cover and gets a chance to take on the Viper?
Of course, when you're talking about ZR1s and Vipers, at least performance wise, you're talking only minor differences in performance. In that most recent race, for example, the SRT Viper – which like the Corvette was piloted by pro driver Randy Pobst – still finished with a very respectable time of 1:35.77, indeed the sixth fastest time ever at Laguna Seca.
"I can't think of two other direct competitors that are so equally matched, so equally designed, so equally sadistic," says Motor Trend road test editor Scott Mortara. "The Viper and the 'Vette are twins separated at birth. Their technical specs overlay each other's as far as length, width, and height, power output, drive configuration, seating position, weight, everything. There simply isn't a better comparison when you look at the numbers. But that's why we do comparison tests, because numbers never tell the whole story."
Mortara and colleague Jonny Lieberman drove both cars back to back, sometimes getting confused about which car they had just driven.
"At one point I made a comment to Mortara about the Viper, even though I'd just crawled out of the 'Vette," Lieberman writes. "We laughed. Still, by the teeny, tiniest of margins, we both preferred the Chevy."
Adds Mortara: "Neither of us even came close to limit driving with these cars, and the same will be true of most owners. But both of our comfort levels were higher in the Corvette."
Hopefully Motor Trend will release a video of the record-setting laps at Laguna Seca. In the meantime, check out the entire 2013 Corvette ZR1 vs 2013 SRT Viper comparison at Motor Trend.

Source:
Motor Trend
Related:
[VIDEO] John Heinricy Talks Legacy of C6, SRT Viper and the Next Gen C7 Corvette
[VIDEO] Motor Trend Pits the Corvette Grand Sport vs the Porsche 911 Carrera S
InsideLine.com Compares 2012 Corvette Z06 Centennial vs 2013 Nissan GT-R Premium