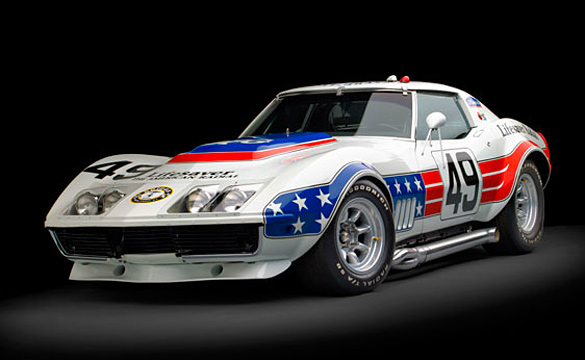 Last night the 1969 ZL-1 Greenwood Stars and Stripes Corvette that was campaigned at Sebring, Daytona and Le Mans crossed the auction block at RM's Monterey auction. Early estimates of what this Corvette would sell for proved to be way off when the hammer dropped at $580,000.
Corvette Report's K.Scott Teeters watched the auction last night online and describes the ground-pounding entrance of the former Le Mans racers to the block:
The Greenwood #49 1969 427 ZL-1 B.F. Goodrich Corvette was the 44th car to go on the block. Cars 100 to 143 were "pushed" up and on to the turntable. As the Greenwood car was being introduced, there was THUNDER. They DROVE the open headered Corvette on to the turntable! When they shut off the ZL-1, the auctioneer said, "It doesn't get any cooler than that! 750-horsepower, ladies and gentlemen!"
Early estimates from RM's Monterey catalog had predicted the #49 Stars and Stripes Corvette would be sold for somewhere between $750,000-$950,000. Even the Wall Street Journal chimed in a few days ago and speculated the Corvette could potentially sell for over $1 million.
But alas, it only took $580,000 to bring the famous Greenwood Corvette home. Teeters said the bidding opened at $250,000 and steadily climbed to $500,000 where the interest in the former racer slowed considerably until the final bid of $580,000 was received.
The #49 BFG Corvette is highly documented with complete owner history, John Greenwood's letter of authenticity, original bill of sale, Le Mans registration and tech inspection sheets. Today the Corvette is oufitted with the last ZL-1 engine from Traco, the historic builder of race engines for Roger Penske and Jim Hall. The Corvette also comes with a vintage DVD from Le Mans and a detailed video by John and Burt Greenwood validating the car's unique features.

Source:
RM Auctions
CorvetteReport.com
Related:
1969 BFG Stars & Stripes Corvette Racer Headed to RM's Monterey Auction
Racing Legend Tony DeLorenzo to be Reunited with His 1967 L88 Corvette
[VIDEO] Rare 1960 GM Film Documents Corvette's First Visit to Le Mans
Chevrolet to Salute Corvette Legends of Le Mans at Monterey This Weekend