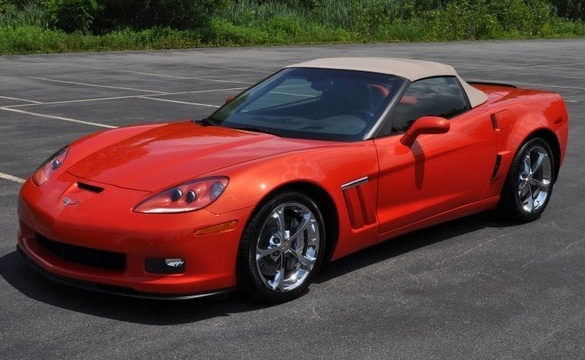 Photo Credit:
CorvetteImages.com
It's one of our favorite times of the year as GM releases the final production statistics for the 2011 model year. As we told you at the beginning of the month, GM's wrapped up production of the 2011 Corvette in June and the final count for all Corvettes produced in the 2011 model year was 13,596. That was an 11.5% increase over the 12,194 Corvettes sold during the 2010 model year.
The Grand Sport models are once again the most popular with buyers, making up 58.7% of all Corvettes sold. The Grand Sport coupe is the best selling model of the Corvette line, accounting for 38.3% of Corvettes built. The regular Coupe model accounts for 22.8% while the Grand Sport Convertible is at 20.4%. The Z06 had a nice comeback as well, outselling the top of the line ZR1 by almost 100 units. You can thank the enhancements to the Z06 as well as the 252 Carbon Editions built this spring for the surge. The top of the line supercharged ZR1 comes in a 5.9% with 806 units built.
The top selling color once again is black, accounting for 1 out of 5 Corvettes built. The total for black was 2,891 which Torch Red (2,264) and Crystal Red (1,419) were second and third. The two reds account for 27% of all colors. As far as the new 2011 colors, Supersonic Blue was 4th on the list at 1,417 (10%) and Inferno Orange was 9th at 790 units (5.8%).
The 2011 Corvette Z06 featured two new RPOs worth taking a look at. The CFZ Carbon Fiber package and the Z07 Performance Packages were produced in nearly identical numbers. GM produced 504 (59.1%) Z06s with the Carbon Fiber Package while 540 (59.7%) of Z06s were built with the Z07 Performance Package.
We broke out many of the popular production options below. Click here to download the spreadsheet which breaks out the numbers by specific model.
Corvettes Produced
Amount
Percent
Coupes
3,112
22.8%
Convertibles
780
5.7%
Grand Sport Coupes
5,212
38.3%
Grand Sport Convertibles
2,782
20.4%
Z06
904
6.6%
ZR1
806
5.9%
_______
_______
Total
13,596
100%
Exterior Colors
Total
Coupe/
GS Coupe
Conv/
GS Conv
Z06/
ZR1
10U Artic White
1,133
683
328
122
17U Blade Silver
1,037
726
234
77
28U Inferno Orange
790
413
164
213
41U Black
2,891
1,865
734
292
45U Velocity Yellow
867
456
321
90
57U Cyber Gray
1,197
803
217
177
70U Torch Red
2,264
1,443
645
176
85U Jetstream Blue
581
350
142
89
89U Crystal Red
1,419
842
480
97
GLB Supersonic Blue
1,417
743
297
377
Convertible Top Colors
Total
Coupe/
GS Coupe
Conv/
GS Conv
Z06/
ZR1
35T Beige
579
0
579
0
34T Blue
49
0
49
0
37T Gray
274
0
274
0
41T Black
2,660
0
2,660
0
Interior Colors & Options
Total
Coupe/
GS Coupe
Conv/
GS Conv
Z06/
ZR1
023 Red
222
114
45
63
026 Two-Tone/Red
617
374
243
0
193 Ebony
7,223
5,446
1,529
248
195 Custom Leather/Ebony
1,654
243
364
1,047
313 Cashmere
1,015
546
453
16
316 Two Tone/Cashmere
363
225
138
0
785 Custom/DK Titanium
478
135
109
234
843 LT Titanium
525
305
178
42
846 Two Tone/LT Titanium
1,294
871
423
0
0B1 Embroidery Cross Flags
1,679
1,033
646
0
D30 Color Override
58
15
41
2
36S Yellow Stitching
18
3
11
4
37S Blue Stitching
204
10
12
182
38S Red Stitching
45
11
16
18
Equipment Packages
Total
Coupe/
GS Coupe
Conv/
GS Conv
Z06/
ZR1
1LT (Coupe & Conv)
2,284
2,122
162
0
1LZ (Z06)
74
0
0
74
1ZR (ZR1)
74
0
0
74
2LT (Coupe & Conv)
1,311
1,060
251
0
2LZ (Z06)
191
0
0
191
3LT (Coupe & Conv)
6,842
4,351
2,491
0
3LZ (Z06)
523
0
0
523
3ZR (ZR1)
666
0
0
666
4LT (Coupe & Conv)
898
385
513
0
Transmissions
Total
Coupe/
GS Coupe
Conv/
GS Conv
Z06/
ZR1
MYC 6 Spd Paddle Auto
8,516
5,774
2,742
0
Wheels
Total
Coupe/
GS Coupe
Conv/
GS Coupe
Z06/
ZR1
PYC GS Aluminum
1,102
832
270
0
PYD GS Comp Gray Alum
855
674
181
0
PYE GS Chrome Aluminum
6,036
3,706
2,330
0
QG6 Base Aluminum
1,347
1,164
183
0
QX1 Comp. Gray Aluminum
156
143
13
0
QX3 Aluminum
2,113
1,561
552
0
Q10 Z06 Base
71
0
0
71
Q44 Z06 Comp. Gray
76
0
0
76
Q6A ZR1 Aluminum
55
0
0
55
Q6B ZR1 Chrome
649
0
0
649
Q6J ZR1 Comp Gray
390
0
0
390
Q6U Z06 Carbon
252
0
0
252
Q8A Z06 Chrome
217
0
0
217
RQ1 Machine Face
277
244
33
0
Grand Sport Options
Total
GS Coupe
GS Coupe
Z15 Grand Sport Heritage
2,059
1,228
831
17A GS Stripes – Silver
996
567
429
40A GS Stripes – White
216
133
83
75A GS Stripes – Red
383
228
155
90A GS Stripes – Med Gray
464
300
164
Other Options
Total
Coupe/
GS Coupe
Conv/
GS Coupe
Z06/
ZR1
C2L Dual Roof Pkg
1,116
1,116
0
0
CFZ Z06 Carbon Fiber
535
0
0
535
ERI Battery Saver
1,487
809
475
203
F55 Magnetic Select Ride
3,892
1,415
1,131
1,346
H33 Gray Headlamps
294
171
77
46
H34 Silver Headlamps
146
92
35
19
H35 Black Headlamps
402
139
95
168
J55 Brakes
815
556
259
0
NPP Dual Mode Exhaust
7,365
4,901
2,464
0
PBC Engine Build Exp
16
0
0
16
PIN Selectable VIN
4
0
0
4
U3U Nav Stereo
6,915
3,234
2,280
1,401
U65 7 Speaker Bose
9,803
5,074
3,135
1,594
U66 7 Speaker Standard
3,793
3,250
427
116
US8 Stereo
5,134
4,024
899
211
US9 Stereo
1,503
1,041
382
80
ULZ Z06 Carbon
252
0
0
252
Z07 Performance Pkg
540
0
0
540

Source:
Bowling Green Assembly Plant

Related:
2012 Corvette Begins Production Without Crystal Red and Cyber Gray
June 2011 Corvette Sales
Final 2010 Corvette Production Statistics