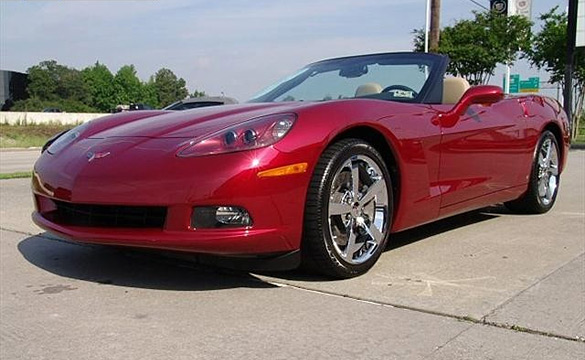 As the Bowling Green Assembly Plant ramps up production of the 2012 Corvette, two of its most popular colors are noticibly absent from the order system. Cyber Gray and Crystal Red Metallic have been in the top four color choices for Corvette buyers in both 2010 and midway through 2011. But the Japenese earthquake damaged the plant that provided a key paint pigment and both colors have been sidelined ever since.
That pigment is called Xirallic and the world's major source of the shiny substance comes from a plant in Onahama, Japan. The plant was damaged in the earthquake and the resulting tsunami. We've heard that the plant is back online but its obvious that production has yet to catch up and fill the production pipeline in quantities needed to free the two colors from contraints. Although the lack of Xirallic is the reason to blame for the absence of Cyber Gray and Crystal Red Metallic, the black Carbon Flash metallic uses a different process and that color is supposed to be unaffected by Xirallic shortage.
Rick Conti gives us some insight into the shortages and tells us that Cyber Gray and Crystal Red cannont even be selected when placing orders for 2012 Corvettes. Complicating matters even further is that black, the top selling color year after year has been replaced with the Centennial Corvette's Carbon Flash metallic. But currently that Centennials are constrained meaning that orders are available but only at very limited quantities.
Of the ten colors in the 2012 Corvette pallate, three of the top four selling colors aren't available or as in the case of the Centennial editions, are very limited and come with a $5,000 option price.
Conti say's GM is currently testing the colors in hopes they can shorten the delay but that it could be September/October before they may become available. In the meantime, expect to see a majority of 2012 Corvettes in Torch Red, Silver, Yellow and Supersonic Blue.

Source:
Corvette Conti
Related:
[VIDEO] Interview with Corvette Assembly Plant Manager Dave Tatman
[VIDEO] Reveal and Walk Around: The 2012 Centennial Edition Corvettes
No More Cyber Gray or Crystal Red for 2011 Corvette
Jetstream Blue Metallic to be Phased out of 2011 Corvette Production