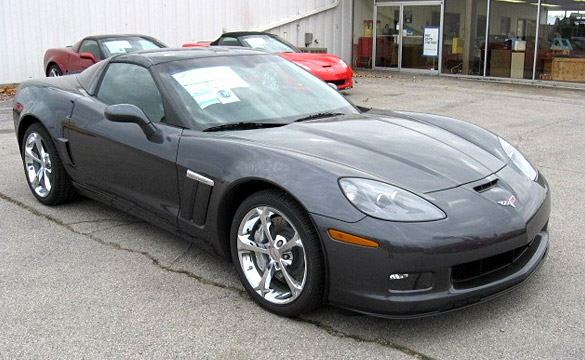 Well, it looks like you can write off Cyber Gray, Crystal Red and Jetstream Blue as colors available for the 2011 Corvette. Jetstream Blue was already being phased out of this year's remaining 2011 production, but the earthquake and resulting tsunami in Japan has affected several other colors that have automakers scrambling. And now we are hearing that customers with existing Corvette orders in the system are being asked to choose new colors.
The decreased color choices for Corvette (as well as other makes/models) is the result of damage to a plant in the Japanese town of Onahama that makes a shiny pigment called Xirallic. The pigment is used in metallic paints due to its shimmering appearance. The coastal town took damage in the earthquake and tsunami and as its only 35 miles away from the stricken Fukashima nuclear power plant, high levels of radiation are all but insuring that the shortage could last for some time.
The Wall Street Journal noted the affects on the automobile industry and provided the following:
A car paint shortage in Japan is causing new problems for the auto industry. A type of shiny pigment widely used in car manufacturing is only produced at a single plant in Japan.

The pigment is called Xirallic and is only produced at an Onahama plant owned by Merck KGaA, a German chemical company. Onahama is a town on the Japanese coast where citizens are still struggling to recover from the devastating earthquake and tsunami that struck Japan earlier this month. In the wake of the tsunami, the town has been exposed to the radiation leaking from the Fukashima nuclear reactor.

Many major auto makers, such as Ford Motor Co., Chrysler Group LLC, Volkswagen AG, BMW AG, Toyota Motor Corp. and General Motors Co., employ Xirallic to give their metallic paints a sparkling appearance. The troubles in Onahama have forced them into a desperate search to find some other type of paint they can use. Last week Chrysler told dealers that the company plants to limit orders for vehicles in 10 different colors that employ Xirallic pigment. Ford had already told dealers it could no longer take orders for F-150 trucks and other models using "tuxedo black" and three shades of red.
Several Corvette dealers have confirmed that some cars that were ordered in Cyber Gray and Crystal Red Metallic have been kicked back with the request to choose a different color. That's bad news as both Cyber Gray and Crystal Red Metallic are two of the most requested colors on new Corvettes.
When you add the already planned discontinuation of Jetstream Blue Metallic, 2011 Corvette buyers are now limited to seven color choices.
We brought up the specter of shortages of Japanese parts with members of GM's Corvette Team at the 12 Hours of Sebring Corvette seminar. At the time, Tadge and Harlan were non-committal as to any specific shortages but they did say that the automobile business is global and that its possible that the quake damage could have repercussions to the automobile industry here in the USA.
The shortages for these colors are expected to last through the end of the 2011 Corvette production which is expected to come to a close in June.

Source:
Wall Street Journal
Corvette Conti
Related:
2011 Corvette Production Statistics (So Far) by Model, Color