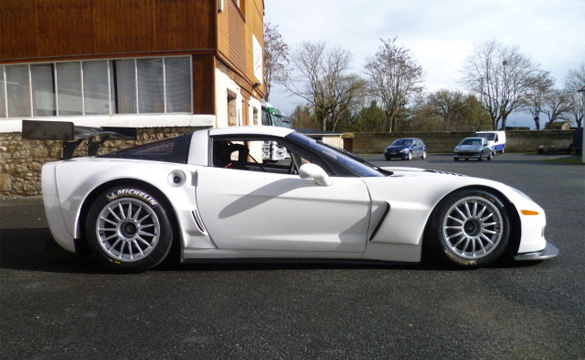 BadBoyVettes tells us the Chevrolet Corvette will once again be competing in Japan's SuperGT Series after a three year absence. Tomei Sports will be campaigning the Callaway Corvette Z06R for the RUNUP Sports blog in the GT300 class which BBV says is a lot like GT3. The series gets started in April 2011 and goes nine rounds through November 2011.
Competing against the Corvette in GT300 will be the who's-who of the sports car world. A myriad of diverse manufactures include Porsche, Ferrari, Lamborghini, Aston Martin, Mosler as well as hometown favorites Toyota (racing a Corolla!), Nissan and Lexus.
Jonsibal.com tells us the drivers of the Callaway Corvette Z06R will be Kazuyoshi Okamura aka Okachan, Masahiro Matsunaga and Atsushi Tanaka.
Here are some photos of the new Callaway-prepped Corvette Z06 arriving via DHL to the Land of the Rising Sun.
Having a Corvette back in the running of SuperGT is sure to be music to GM's ears. The Japanese market is small but one that GM takes seriously. So much so that there is even a dedicated website for selling Corvettes in Japan. Back in 2006, 400 Corvettes were allocated to Japan which was expected to account for their entire yearly allocation. They sold out in one month. In 2008, GM offered a 30 unit special edition C6 model called the "S-Limited" which also sold out quickly.
All this reminds me that former GM Vice Chair Bob Lutz called for the next Corvette to be designed and built as both a left wheel drive for domestic consumption and right wheel drive for export to countries like Japan, Australia and the UK. Build it and the buyers will be there.
One more final though on the 2011 Japan SuperGT. I hope Japanese buyers are susceptible to the "Win on Sunday, sell on Monday" car buying strategy because with a Corvette Z06 on the grid, anything is possible.

Source:
Bad Boy Vettes and jonsibal.com
Related:
Japan's Special Edition Corvette: The Corvette S-Limited
Corvettes For Sale Down Under?