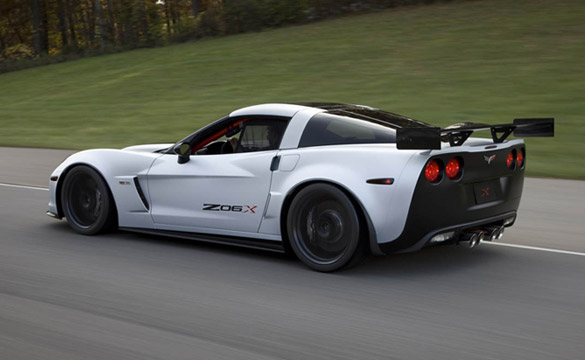 Chevrolet will bring two exciting concepts to the SEMA show which kicks off tomorrow in Las Vegas. Joining the Jake Grand Sport special edition we saw in the GM SEMA preview video is one of the most exciting concepts we've seen from Team Corvette: the 2011 Corvette Z06X Track Car Concept.
While we've seen a couple of special edition Corvettes that were geared towards the weekend racer, most recently the 2009 Competition Sport Corvette, the Z06X Track Car takes the race-ready concept to a whole new level.
The 2011 Corvette Z06X is an up-optioned, stripped down racing machine. Based on the Z06 with the 1LZ equipment package, the Z06X gets the Z07 performance package along with the CFZ Carbon Fiber Package. To make the lightest street Corvette even lighter, the Z06X gets additional carbon fiber in the form of the ZR1's roof and b-pillars, a carbon fiber raised hood (from the Z06 Carbon Edition) and the radio, carpeting and sound-deadening materials were removed.
Other competition-oriented modifications include an adjustable carbon fiber rear wing, a polycarbonate rear window, roll cage with camera mount and a racing seat with safety harness. Other enhancements include racing wheels, adjustable coil-over struts and stabilizer bars as well as Genuine Corvette Accessories (GCA) racing pedals.
"Racing is an integral part of Corvette performance and technology," said Tadge Juechter, Corvette chief engineer. "This concept car represents a mid-point between our GT race car and the production Z06, prepared by the team responsible for the Corvette Racing C6.R race cars, and featuring many performance parts owners can choose today."
The Corvette Z06X exterior is a low-gloss Icy White Metallic accented with exposed carbon fiber body components and red trim. Black lightweight racing wheels are outfitted with Michelin racing tires.
"It's a classic case of form following function," said Dave Ross, design manager. "The exterior color and accents were carefully selected to enhance the Corvette's racing-influenced design, but there's nothing superfluous in the Z06X's design – everything is there for a reason."
Chevrolet teamed up with Pratt and Miller to create the Corvette Z06X Concept. The car showcases Chevrolet's ever expanding portfolio of performance parts to great a full-on track car.
Although still a concept, we would love to see GM offer a serious track-ready Corvette from the factory. The Z06X Concept could be the first step in making that happen.
Here is the full press release from General Motors:

2011 CHEVROLET CORVETTE Z06X TRACK CAR CONCEPT
Corvette is a mainstay on racing circuits ranging from LeMans to club racing. Chevrolet's Corvette Z06X Concept suggests a new idea and components for transforming a production Corvette into a serious, closed-course track car.

The Corvette Z06X Concept showcases how an enthusiast can leverage Chevrolet's expanding portfolio of performance parts to create a full-on track car. Chevrolet teamed with Pratt and Miller, partners in Corvette Racing in the American LeMans Series, to create this Z06X track car concept.

"Racing is an integral part of Corvette performance and technology," said Tadge Juechter, Corvette chief engineer. "This concept car represents a mid-point between our GT race car and the production Z06, prepared by the team responsible for the Corvette Racing C6.R race cars, and featuring many performance parts owners can choose today."

The Z06X concept is based on the Corvette Z06 with the 1LZ equipment package, along with the Z07 Performance Package and CFZ Carbon Fiber Package. The 2011 Z06 with the Z07 package creates the lightest production Corvette and includes carbon ceramic brakes and Magnetic Ride Control, while the CFZ package offers body components that enhance aerodynamic down force on the race track, including a front splitter.

The Z06X Concept features competition-oriented modifications including: an adjustable carbon fiber rear wing, a polycarbonate rear window, roll cage, racing seat and safety harness, racing wheels, suspension enhancements – including coil-over struts with fully adjustable camber plates – racing-spec cooling system and more. The radio, carpeting and sound-deadening material are also removed.

The concept vehicle wears a low-gloss Icy White Metallic exterior color, accented with exposed carbon fiber body components and red trim. It rides on black racing wheels and racing tires. The interior is all business, with a racing seat, window net and roll cage-mounted camera system. It includes a racing pedal kit, a Genuine Corvette Accessory.

"It's a classic case of form following function," said Dave Ross, design manager. "The exterior color and accents were carefully selected to enhance the Corvette's racing-influenced design, but there's nothing superfluous in the Z06X's design – everything is there for a reason."

VEHICLE HIGHLIGHTS Exterior:
Low-gloss Icy White Metallic color with exposed carbon fiber and red accents
2011 CFZ-option carbon fiber package, including splitter and rockers
Adjustable carbon fiber wing
ZR1 carbon fiber roof panel and B-pillar panels
Carbon fiber raised hood (from the Z06 Carbon Limited Edition)
Carbon fiber headlamp housings from Specter Werkes/Sports
Weight-saving and shatter-resistant polycarbonate rear window
Interior:
Base Z06 1LZ trim
Radio, carpeting and sound-deadening material removed
SCCA-spec roll cage
SCCA-approved window net
Racing seat with five-point safety harness
Fire suppression system
Driver's drink system
Video camera system mounted on the roll cage
Genuine Corvette Accessory racing pedal kit
Performance:
LS7 7.0L V-8 engine and Tremec six-speed manual transmission
Low-restriction air intake system
High-capacity radiator and enhanced cooling system
New-for-2011 Z07 Performance Package, feature Brembo carbon ceramic brake rotors and special brake pads
Lightweight racing wheels in black; 19-inch (front) and 20-inch (rear)
Michelin racing tires
Mono-ball control arm bushing
Adjustable stabilizer bars
Coil-over struts with adjustable camber plates

Source:
General Motors
Related:
[VIDEO] The 2011 Corvette Z06 Carbon Limited Edition Public Reveal [PICS] First Look: The 2009 Competition Sport Corvette