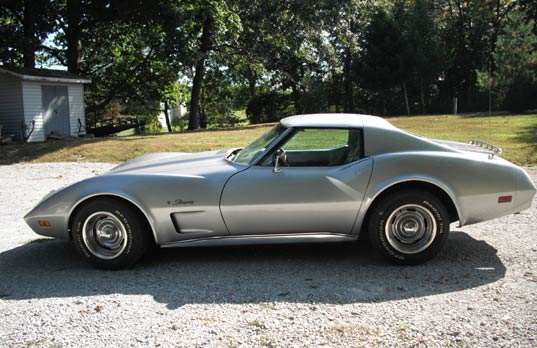 AD in Illinois submitted this 1974 Corvette Convertible to Corvette Values:
1974 Corvette T-Top Coupe. VIN: 1Z37J4S414XXX. Silver with Silver interior, Original 350/195 hp V8. Automatic transmission, 127,377 miles. Power brakes, power steering, power windows, tilt-tele steering column, factory air, cloth interior, new tires. The Corvette is termed to be in "good" condition. Owner history and receipts.
Find out how we valued this Corvette after the jump.
1974 Corvette T-Top, VIN #1Z37J4S414XXX. The VIN # indicates this Corvette was built in January 1974, relatively early in the production year.
It is reported to have 127,377 original miles, not an inordinate amount of miles considering it has been on the street for 35 years.
This Corvette is Corvette Grey in color with a matching Grey cloth interior. The paint is considered to be good, but it has the traditional road chips in the front bumper area. Also the interior has the usual wear on the door panels, again not unusual for a Corvette with 100K+ miles.
It is powered by the standard 350-195 engine that is coupled with an automatic transmission. This combination was popular for the 1974 Corvette production with approximately 68% of the buyers selecting this motor and transmission combination.
This 1974 Corvette is nicely equipped with comfort and convenience driving options that include power steering, brakes, windows, A/C and a tilt-telescopic steering column. There is some question as to the working status of the A/C since the belts have been disconnected. In addition, the original radio equipment has been replaced with an after-market model.
This Corvette also has a rear chrome luggage carrier. This was a dealer installed option for the 1974 model year. The Corvette also has the original wheel trim and center caps; the tires appear to be in new condition.
Adding to the value of a Corvette is owner history which is included with this Corvette as well as numerous receipts.
This Corvette is in original condition with no modifications.
We place a value of $10,000 on this 1974 Corvette T-Top. Also of interest is the fact that the 1974 Corvette T-Top is showing an annual increase in the average price value of 3%.


Corvette Appraisals:
With rapidly changing Corvette values, make sure your insurance coverage keeps up with your Corvettes value by having it appraised online at VetteFinders.com. Our online appraisals are only $69.95 and are usually completed within three business days. Click here to start your Corvette appraisal now.
Source:
VetteFinders.com Appraisal Service
Related:
Corvette Values: 1979 Corvette T-Top Coupe
Corvette Values: 1972 Corvette Roadster with a 454ci V8 Technorati Tags:
Corvette | Vette | Chevy | Chevrolet | GM | Prices | Values | Appraisal | C3 | 1974 | T-Tops | Value