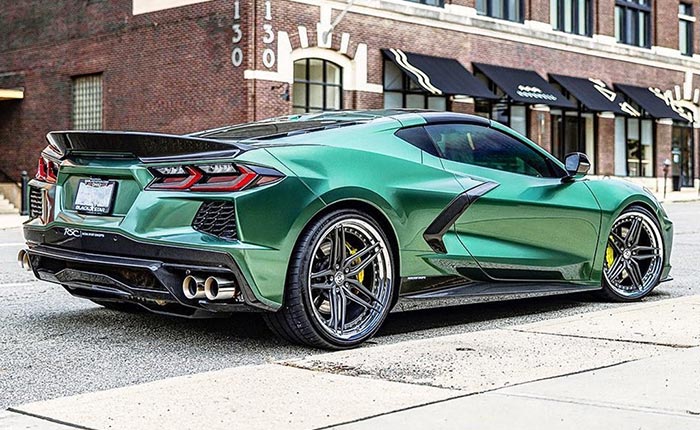 Readers may recognize this formerly Arctic White 2020 Corvette from our friends at Racing Sport Concepts who used the car to show off the company's carbon fiber aero components for the C8 Corvette.
In this YouTube video from the Car WrapKing Vinyl Wraps, the Stingray undergoes a transformation via a time-lapse video as the Corvette is transformed with INOZETEK's Metallic Racing Green wrap.
The custom wrap installation was done by Black Star who removed the front and rear fascias and all the exterior trim prior to the installation. Heat lamps are used to shrink the material onto the car before the technician goes to work with a straight edge, razor, and a blow torch. The end result is spectacular but the video didn't truly capture it so we also have some additional photos from the RSC Instagram page.

Customizing your Corvette with a custom wrap is one way to get just the right exterior color for your Stingray and I often find myself browsing the various 3M vinyl wraps looking for inspiration. The other plus with a custom wrap is that your Corvette stands out even more from the crowd. To see more wrap offerings from INOZETEK, check out their website.
Here are a few more pics of this beauty. Use the navigation arrows in the Instagram posts to cycle through the photos.

Source:
Car WrapKing Vinyl Wraps, Racing Sport Concepts / Instagram

Related:
Racing Sport Concepts Introduces Limited Edition "STC" Carbon Fiber Side Skirts
Racing Sport Concepts Carbon Fiber Rear Diffuser for the C8 Corvette
[VIDEO] Racing Sport Concepts Shows Off Carbon Fiber Body Kit for the C8 Corvette in a Cinematic Video