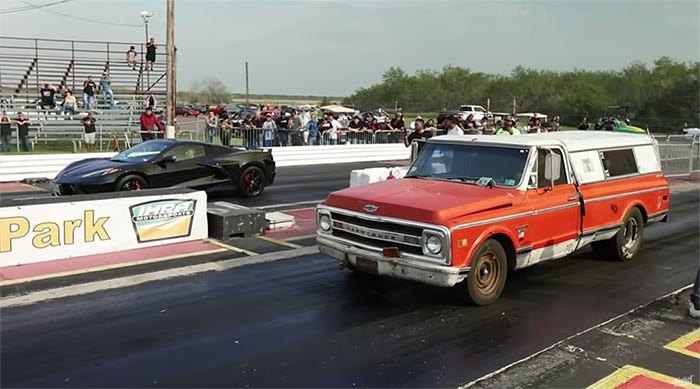 If you have watched the TV show "Street Outlaws" or have searched YouTube for the King of all Sleepers, you are most likely aware of "Farmtruck", a 1970 Chevy long bed pick up truck with a camper top and the ability to pop a wheelie as its launches from the track.
The duo that races Farmtruck, Sean "Farmtruck" Whitley and his sidekick ANZ were at an event in Texas when they came across a young man named Reuben in the paddock with a Black 2020 Corvette. They challenged the young man to race Farmtruck and he readily agreed.
We're not sure what happened next, but the race ends up being about as anti-climatic as a race could be, but it's still a fun video to check out.
While we were down in south texas for #winterheatwave 4 at Edinburg Motorsports Park we saw a nice new 2020 C8 Corvette in the pits. We got curious to see how we would stack up against it!

Source:
YouTube

Related:
[VIDEO] 900-HP 'Time Attack' C6 Corvette Z06 vs 600-HP Nissan R32 Skyline GT-R
[VIDEO] Stock 1969 Corvette 427 Takes on a Stock 1970 Dodge Challenger R/T for Quarter Mile Supremacy
[VIDEO] 2019 Corvette ZR1 vs Porsche Taycan at the Drag Strip in Mexico