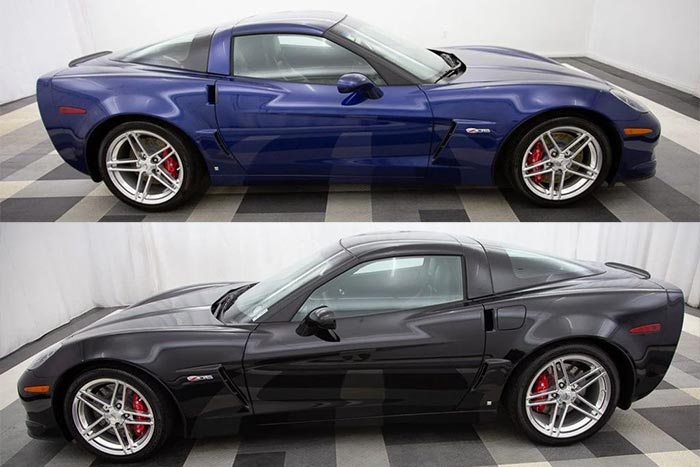 One reason that the C8 Z06 announcement caused such a stir amongst Corvette enthusiasts is that it brought back something special that we all thought might be gone forever. The 'Vette that wore the Z06 badge between 2006 and 2013 is one of the most respected modern vehicles in the world. Even outside of Corvette circles, the C6Z and its naturally aspirated 427-cubic-inch LS7 are revered. Using 7.0 free-breathing liters to power a performance car in the mid-2000s was a decidedly old-school (simplistic, even) yet, brutally effective solution to the age-old question of how to get four-wheels down the road fastest and with the most excitement. When the C7Z debuted, it followed the industry standard of downsizing (to a still impressive 6.2L) and adding forced induction. It gained 145-horses during the transformation, but many felt that the Big Nasty had lost some of what made its predecessor so distinctive and extraordinary. Forums were flooded with people demanding an NA heir to the Z06 throne.

After a decade of model years, the parodical son is finally set to make a triumphant return to showrooms, but its differences serve as a reminder of just how outstanding history's largest small block, and the cars that housed it, remain to this day! The new motor, dubbed LT6, is down a full liter and a half (that's .4 of a gallon!) of displacement, and instead of brute force and low-end twist, it relies on the quickness of its new flat-plane crankshaft to make power. It has also done a 180 in its transmission philosophy, from manual-only to an exclusive dual-clutch automatic offering. During its 10-year sabbatical, the atmospheric Z has undergone a complete personality change. Now it is more of an acrobatic Spider-Man to the old car's Incredible Hulk, and if you are (rightly) worried about being able to score an allocation in 2023 or count yourself as one of the customers who still likes to "smash," Cosmo Motors of Hickory, North Carolina has two open slots for brand-new C6 Z06s!
Unfortunately, since these cars are old enough to legally drive themselves, you won't be able to enjoy the unrivaled feeling of creation that comes along with hitting "submit" on an official dealership order form/configurator. But rest assured, the person that built Cosmo's Zs did an incredible job of ordering for you!

The first one comes from the inaugural year of Z06 production, and its odometer only displays 153 miles! It is presented in one of, if not the absolute best exterior color from '06, LeMans Blue Metallic (a $300 upcharge), draped over the Titanium 2LZ interior ($2,900 added to the sticker). With an original MSRP of more than $73,000, it also features the must-have Polished Wheels and RPO U3U, the upgraded sound system with the humorously-outdated DVD-based navigation that will blow your kids/grandkids' minds! At $69,997, it also beats the lowest-mileage early C6Z on Cars.com (a 205-mile Machine Silver car) on price by nearly ten grand!

Its floorplan companion is a 2007 model that has only covered 429 miles (we wish they pushed it the final two miles on its last drive, too!) since it left Bowling Green. This one has the Ebony/Red statement leather inside of a brilliant Black shell. Base prices were up $4,285 between the Z's freshman and sophomore campaigns, and the interesting price comparisons don't end there. The top-tier (at the time) 2LZ equipment group makes an encore appearance here with a ballooned ask of $3,485, while the navigation option went up $200, as did the upgraded wheels, for an original pre-tax number of $78,620 (that's an astounding $107,864 in 2021's inflated dollars if you were planning on going to the comments to complain about Chevrolet's "high" pricing strategy these days). With its more believable mileage and lack of first-year prominence, this one can be yours today for just $65,997.

As compelling as these two are for a collector, it is Cosmo's $45,977, 17k-mile, Victory Red '07 that really has us contemplating a call to our credit union! It isn't every day that you see two completely unblemished examples, though. That is especially true when you narrow your search to a single room, and that is the reason for this post. We hope both of these beauties find a place where they can display the glories of the US auto industry, circa 2006 for generations to come, but as thought-provoking, as extreme-low-mileage cars are to find, it always makes us a little sad that they didn't get to fully experience their prime years, but unused cars can still put a smile on some faces!

Source:
CosmoMotorsOnline.com

Related:
Corvettes for Sale: 2001 Corvette Z06 in Rare Speedway White Offered on Craigslist
Corvettes for Sale: Honduras Maroon 1961 Corvette 283/230 on Bring a Trailer
Corvettes for Sale: 1978 Corvette Pace Car on Craigslist for $12,400