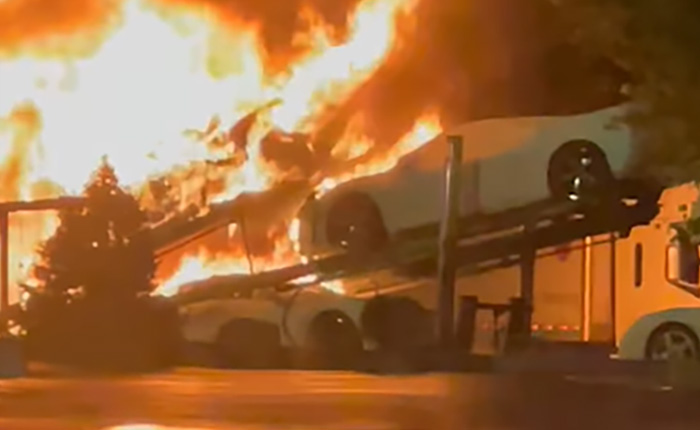 We knew that the new C8 Corvettes were hot, but we didn't think that the high demand would cause them to literally catch on fire!
A video posted to the C8 Corvette Owners (and Friends) Facebook Page show firefighters attempting to put out a fire that occurred on a Jack Cooper auto transport carrying a load of brand new Corvettes to dealers. The fire was said to have occurred in the early morning hours about 15-30 minutes north of Nashville, Tennessee. As the Bowling Green Assembly Plant is just an hour north of Nashville, it looks like the transport didn't make it far before the flames started.
The originator of the video is named Corieblue Fickes and he says he stuck around until molten cars started flying around. We do see some mini explosions in the video that sent debris flying through the air.
As each Jack Cooper transport can carry up to 10 new Corvettes at a time, we have to believe this loss for General Motors is estimated to be around $900,000 if all 10 Corvettes were lost in the fire.
But the good news according to one poster on the Corvette Facebook page is that they will now be offered at just $5K over MSRP! Just kidding of course, but we do know there are going to be some sad people out there today whose wait for a new C8 just got longer.
Check out the video here, and fyi, there is a bit of salty language as the OP watches the Corvettes burn:

UPDATE
Our friend Adam Ellison sent us three photos showing the aftermath of the fire and it looks like that just the first trailer section of new C8 Corvettes were lost. So maybe some good news here after all!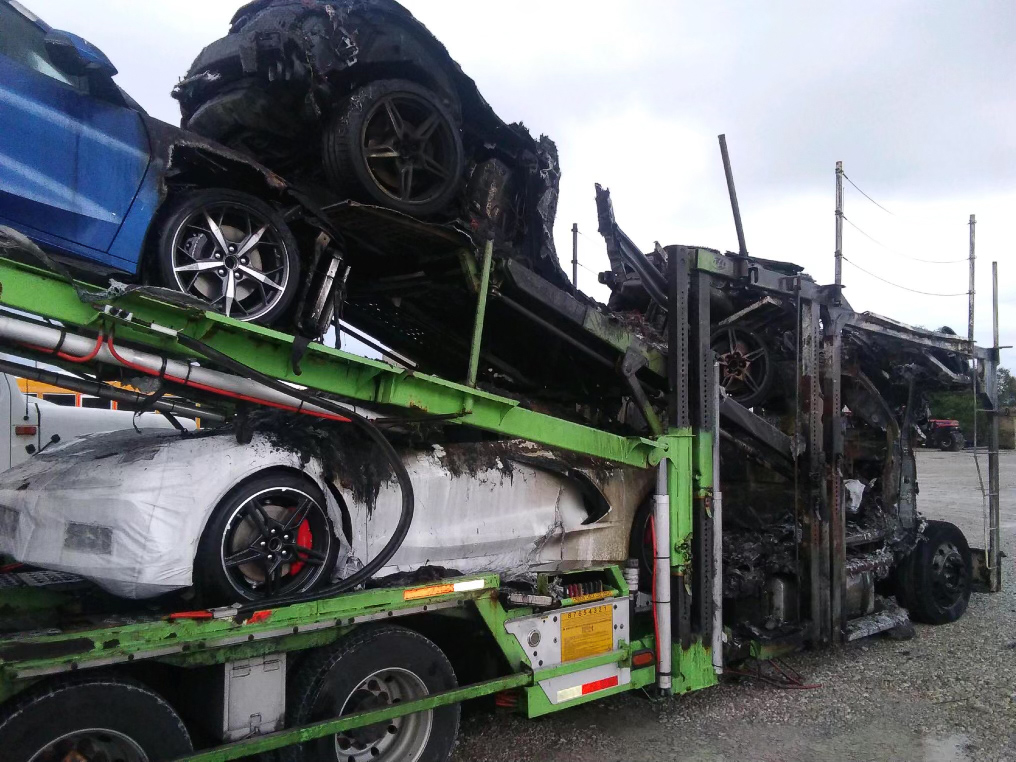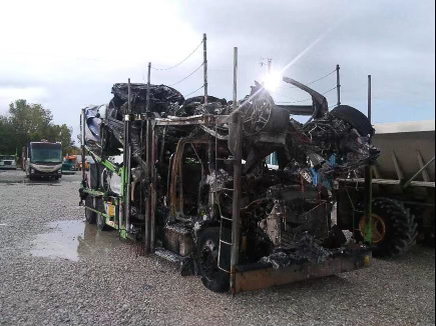 Road & Track picked up the story and they got an official statement from a Chevrolet spokesperson:
On Tuesday evening, a hauler carrying a load of new Corvettes caught fire in Tennessee after the driver pulled into a truck stop to investigate an issue with the truck. Fortunately, the driver of the truck is okay. Our vehicle logistics supplier is investigating. As we learn more, we will reach out to affected dealers and customers.

Source:
C8 Corvette Owners (and Friends) / Facebook

Related:
[ACCIDENT] Firefighters Injured While Battling a Garage Fire Started by a C3 Corvette
[ACCIDENT] 1994 Corvette Catches Fire in Southwest Florida Neighborhood
[ACCIDENT] Puget Sound Firefighters Called to Extinguish a C3 Corvette on Fire