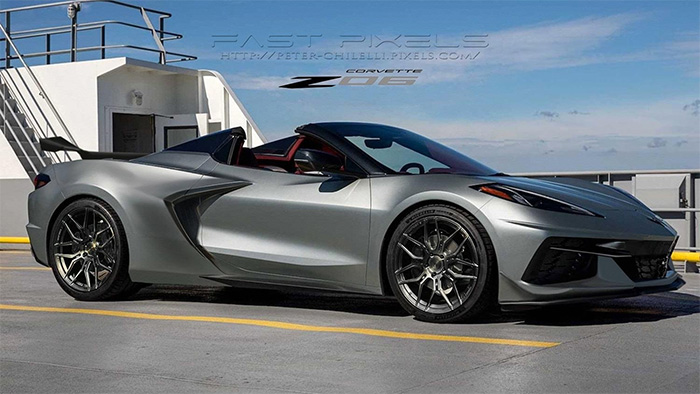 Now that the 2023 Corvette Z06 has been photographed and recorded at all angles as it was tested at the Nurburgring, digital artists have been offering their takes with renderings based off the sharp lines and design elements unique to the upcoming widebody model.
Our friends at the MidEngineCorvetteForum.com shared such a creation tonight from Peter Chilelli who offers digital artwork for sale on his website peter-chilelli.pixels.com.
His rendering takes the official PR photo of the 2022 Corvette Stingray in Hypersonic Gray and transforms it into the Z06. The front fascia with the canards on the corners and the "tuning-fork" wheels are spot on and the Z07's signature spoiler can be seen on the rear deck.
We've recently seen the new Hypersonic Gray in person at Carlisle and the NCM and it's the perfect shade of gray for the upcoming Z06. As the basis of the photo was an official PR photo, the image closes matches what we saw on the IMSA GTLM C8.R edition when out in the sun.
Click here to see the full size version of the 2023 Corvette Z06 rendering. Compare that to the spy photos taken from the Nurburgring:

Like what you see? Let us know your thoughts on the upcoming 2023 Corvette Z06 in the comments below.

Source:
peter-chilelli.pixels.com via MidEngineCorvetteForum.com

Related:
[PIC] A Rendering from the Rear of the Base 2023 Corvette Z06
GM Design Team Shares Early Design Sketch of a 1961 Corvette Stingray Concept
[VIDEO] Digital Artist Offers Virtual Look at a Front-Engined C8 Corvette