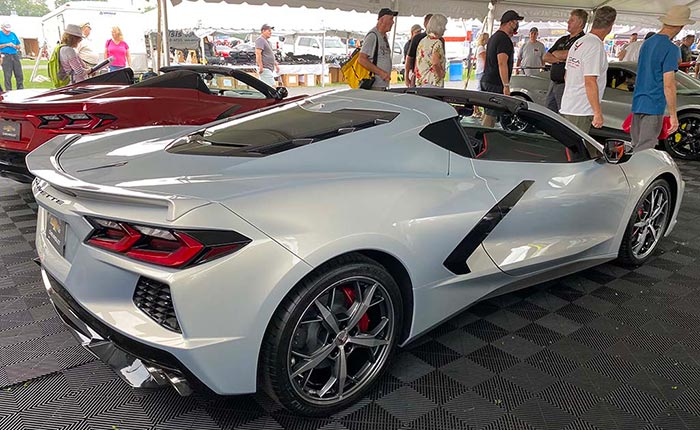 One of the additions to the 2022 Corvette model year is the new Low Profile Spoiler. Chevrolet tells us that it was created to give Corvette owners a third rear spoiler/wing option and after seeing it in person at Corvettes at Carlisle, we really like how it appears on the rear deck of the C8 Corvette.
The RPO for the spoiler is TVS and it has an MSRP of $595. It's available for cars equipped with the Z51 Performance Package as well as base Stingrays. If ordered with a base Stingray, you will also receive the Z51 front splitter. Buyers can also choose between ordering it in body color or Carbon Flash black metallic.

The Low Profile Spoiler utilizes the same mounting points as the Z51 spoiler, and if you have the base car, the installer will have to drill into the rear deck utilizing a provided template.
We were surprised to find more examples of the Low Profile Spoiler than expected at Corvettes at Carlisle. Under the Chevy engineering test contained three Corvettes with the body color examples, and we found the Carbon Flash versions on the engineer's preproduction 2022 CTF Corvettes that were parked in the rear of the show. We got plenty of photos of them from multiple angles to give you the best look yet.
What are your thoughts on the new Low Profile Spoiler? For those ordering the base Corvette, will you be adding this option? Let us know in the comments below.

Source:
Photos by Keith Cornett
Related:
[VIDEO] The 2022 Corvette Presentation from Corvettes at Carlisle
[VIDEO] First Look at Caffeine Metallic on the 2022 Corvette Stingray
[PICS] The New Hypersonic Gray Is On Display This Week at Corvettes at Carlisle